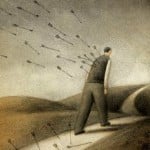 Second Thessalonians 1:5-10 in the Greek has an Old Testament feel (the Bible of most New Testament Christians was the Septuagint, a pre-Christian Greek translation of the Old Testament).
Second Thessalonians exhibits many more references to the Old Testament than does 1 Thessalonians.
Read 2 Thessalonians 1:5, 6. What is Paul saying? What promises are found in there?
The word evidence (NIV) or token (KJV) means "proof" or "plain indication" of something. What does the persecution of Christians (vs. 4) prove? It is certainly not evidence of God's […]