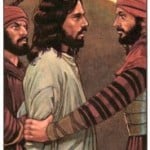 On the famous road to Emmaus, Jesus taught the two despairing disciples about the atonement from "Moses and all the prophets" (Luke 24:27). What prophetic materials might Jesus have included in His study of the Atonement? 1
It's very likely that among the prophets Jesus would have referred to, Isaiah was one.
Read Isaiah 53, which describes the "suffering Servant." Describe the details included there that help you more fully grasp the amazing atonement of Christ. 
Though so much exists in this chapter, one point stands [...]