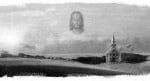 Read for This Week's Study: Gen. 2:1–3, Exod. 20:8–12, Deut. 5:12–15, Matt. 12:1–13, John 9, 19:30.
Memory Text:
" 'The Sabbath was made for man, and not man for the Sabbath. Therefore the Son of Man is also Lord of the Sabbath' " (Mark 2:27, 28, NKJV).
Key Thought: The seventh-day Sabbath, in every way, points us to Jesus, our Creator and our Redeemer.
In the beginning was the Word, and the Word was with God, and the Word was God. The same was in the beginning with God. All things [...]