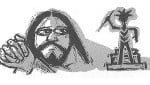 Read for This Week's Study: Hos. 1:1-3, Ezek. 4:1-6, Hos. 2:12-18, 4:1-3, James 5:1-7,Rev. 14:6-12.
Memory Text: "'I will plant her for myself in the land; I will show my love to the one I called "Not my loved one." I will say to those called "Not my people,""You are my people"; and they will say, "You are my God"'" (Hosea 2:23, NIV).
Key Thought: Even amid spiritual adultery and divine judgment, God's love for His people never wavers.
The prophet Hosea ministered at the close of a very prosperous period [...]