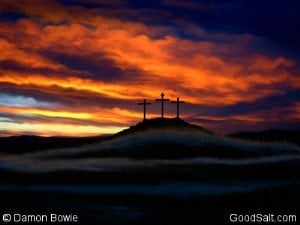 Nothing is more destructive to our grasp of the atonement of Christ than the sentimentality that sometimes passes for Christianity in our day (all in the attempt to make the gospel conform to modern thinking). However, we must ever humbly acknowledge that anything we say about God can never do God justice, especially when we consider the atonement. We must avoid the temptation to reduce Jesus' death on the cross to merely an "example of selfless love." It was certainly that, but considering our situation as sinners, it would take more than "an example of selfless love" to redeem us. It would take, instead, our God bearing in Himself the full brunt of His own wrath against sin. 1
On the cross, Jesus cried out: " 'My God, My God, why have You forsaken Me?' " (Matt. 27:46, NKJV). How are we to understand this? What was Jesus saying, why, and how does this amazing cry help us understand what it cost to save us from sin? 
---
---
"And now the Lord of Glory was dying, a ransom for the race. . . . Upon Christ as our substitute and surety was laid the iniquity of us all. He was counted a transgressor, that He might redeem us from the condemnation of the law. . . . The Saviour could not see through the portals of the tomb. . . . He feared that sin was so offensive to God that Their separation was to be eternal. . . . It was the sense of sin, bringing the Father's wrath upon Him as man's substitute, that made the cup He drank so bitter, and broke the heart of the Son of God."—Ellen G. White, The Desire of Ages, pp. 752, 753.
Jesus addresses this prayer to "God" instead of to the "Father," as He always had done. Christ's cries from the cross are not some exemplary display that He appears to go through in order to demonstrate that He loves us. No, this is God giving Himself over to death so that our destiny would not be determined by death. This is God Himself dying the death that we can be spared from, the death that sin would otherwise bring us all.
Three Gospels record that Jesus cried out with a loud voice from the cross as He was dying. These loud cries are even mentioned in the book of Hebrews: "who, in the days of His flesh, when He had offered up prayers and supplications, with vehement cries and tears to Him who was able to save Him from death" (Heb. 5:7, NKJV). Jesus' "cry of dereliction" is the most piercing cry in the Bible. There is no statement in all the Gospels to rival this one of Jesus from the cross, and in that cry we get a glimpse of what the Lord Himself was willing to go through in order to bring us salvation.
Amen!

(

0

)

Print/PDF/Email