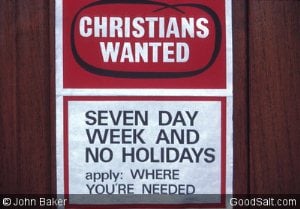 We get a clear picture of what evangelism is as we review the activities of the first evangelists. Regardless of the major differences between their world and ours, both worlds were sinful, fallen, and in disrepair—thus in need of hope and salvation. More than a century ago, German philosopher Arthur Schopenhauer somewhat exaggeratedly (he wasn't known as "the philosopher of pessimism" for nothing) expressed the human condition like this: "no one has ever lived who has not more than once wished that he did not have to live through the following day."—The World as Will and Idea, p. 204. Little has changed since the apostle's time, Schopenhauer's, or during ours. Thus, the main points of the first century evangelistic preaching also should be the main points of ours today.1
Read Acts 4:33, 5:42, 2:36–39, 7:56, 13:48. What are some specific themes about which the disciples preached that should be included in today's evangelistic presentations? 
---
---
To be an evangelist in any sense of the word, one must have personal understanding and experience of "the everlasting gospel." It is this gospel that ultimately brings belief, confession, conversion, baptism and discipleship, and the promise of eternal life.
The Jewish leaders saw something in the boldness of the apostles that convinced them that the apostles had been with Jesus (see Acts 4:13). Most likely the leaders formed this conclusion because they were confronted with a group of men who seemed unable to talk about anything else but Jesus' life and teachings. Evangelism and witnessing surely have to do with speaking about the life and teachings of Jesus, the difference those teachings and beliefs have made in the individual believer's life, and the difference Jesus can make in anyone's life if He is accepted as Lord and Savior.
It is important to view evangelism and witnessing as a continual process rather than as a single program or event. A vital part of the process is establishment and nurture. The word steadfastly in Acts 2:42 indicates a strong commitment by the new believers to an ongoing strategy for their spiritual nurture. Clearly, the early church saw evangelism as much more than just the preaching of a message. Their evangelistic process was not complete until people became disciples and had been thoroughly incorporated into the local group of believers.
Of all the gospel promises, which one offers you the most hope? How can you learn to cling to that promise and make it your own, no matter how difficult your circumstances?
Amen!

(

0

)

Print/PDF/Email