Sabbath: Every Member Ministry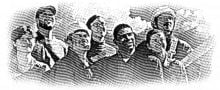 Read for This Week's Study:
Eph. 4:12, 2 Cor. 5:15–20, John 4:35–41, 1 Thess. 1:5–8, Acts 14:27.
Memory Text:
"But you are a chosen generation, a royal priesthood, a holy nation, His own special people, that you may proclaim the praises of Him who called you out of darkness into His marvelous light" (1 Peter 2:9, NKJV).
Key Thought:
Too often evangelism and witnessing are seen as the pastor's job alone; this attitude is wrong.
According to Peter, God's people are chosen, called to be a "royal priesthood." Because the priests were given a ministry, it follows that if we are called to the "priesthood," then we have a ministry, as well. We must understand, however, that we are not called merely in order to perform a ministry. First and foremost God is calling us into a relationship with Himself, and it is out of that relationship that we are compelled to share with others the great things that God has done, and is doing, for us. This is at the heart and soul of personal witness.
Each of us, therefore, has a personal ministry to perform, and it involves proclaiming the praises of Him who has called us "out of darkness into His marvelous light."
This week we will explore the concept of "every member ministry" and see how each individual experience contributes to the church's corporate ministry. The point being that each of us has a role to play in the work of outreach and evangelism.
Study this week's lesson to prepare for Sabbath, April 14.
Amen!

(

0

)

Print/PDF/Email