Friday: Further Study: Christ, our Sacrifice
Further Study: "The Atonement, Part I—Atoning Sacrifice," pp.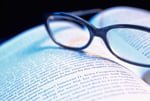 661-680, in Appendix C of The SDA Bible Commentary, vol. 7A.
What Martin Luther frequently called a "wonderful exchange" or "joyous exchange" of Christ's righteousness for human sin, Ellen G. White describes in a classic statement as follows: "Christ was treated as we deserve, that we might be treated as He deserves. He was condemned for our sins, in which He had no share, that we might be justified by His righteousness, in which we had no share. He suffered the death which was ours, that we might receive the life which was His. 'With His stripes we are healed.'"—The Desire of Ages, p. 25.
"Nothing less than the death of Christ could make His love efficacious for us. It is only because of His death that we can look with joy to His second coming. His sacrifice is the center of our hope. Upon this we must fix our faith."—Ellen G. White, The Desire of Ages, p. 660.
Discussion Questions:
Some don't like the idea of Jesus as our sacrifice. They think it makes God sound bloodthirsty or vengeful, like the pagan deities of the past. (In fact, some argue that the language of blood and sacrifice and so forth in the Bible is simply a reflection of these pagan concepts.) What is so dramatically wrong with this perception of the Cross? How do the concepts of death, sacrifice, and blood help to show us just how serious sin and its consequences are? How should this realization of the cost of sin help us to seek God's power to put sin out of our lives?
Some people struggle with the issue of works and how they relate to salvation. How can keeping before us Christ's substitutionary death, and what He accomplished for us by that death, help to protect us from falling into the trap of salvation by works? After all, what could our works possibly add to what Christ has done for us by dying in our stead?
Ellen G. White said it would be good to spend a thoughtful hour every day focusing on the life of Jesus, especially the closing scenes. How could such an exercise help to strengthen our relationship with Christ, as well as increase our appreciation of what He has done for us?
Amen!

(

17

)

Print/PDF/Email