"God gave our first parents the food He designed that the race should eat. It was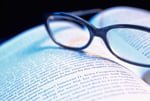 contrary to His plan to have the life of any creature taken. There was to be no death in Eden. . . ."-Ellen G. White, Counsels for the Church, p. 228.
"Satan represents God's law of love as a law of selfishness. He declares that it is impossible for us to obey its precepts. The fall of our first parents, with all the woe that has resulted, he charges upon the Creator, leading men to look upon God as the author of sin, and suffering, and death. Jesus was to unveil this deception."-Ellen G. White, The Desire of Ages, p. 24.
"But man was not abandoned to the results of the evil he had chosen. In the sentence pronounced upon Satan was given an intimation of redemption. . . . This sentence, spoken in the hearing of our first parents, was to them a promise. Before they heard of the thorn and the thistle, of the toil and sorrow that must be their portion, or of the dust to which they must return, they listened to words that could not fail of giving them hope. All that had been lost by yielding to Satan could be regained through Christ."-Ellen G. White, Education, p. 27.
Discussion Questions
In class, go over your answer to Monday's final question. What kind of rules do we make that could turn us into the very people Jesus condemned? At the same time, how can we make commitments that might help us better to follow the principles of truth as revealed in the Bible?
Eve trusted her senses instead of a very clear command from God. Why do we find it so easy to do the same thing?
Dwell on the obvious contrast between the Creation story and the various evolutionary ideas that depict natural evil as part of God's original creative process. Why is it impossible to harmonize such conflicting views of our origins without ultimately destroying the plain meaning of the Bible? Why is a correct understanding of Creation important in order to gain a correct understanding of the Fall?
Some cultures find the idea of a literal devil nothing but foolishness; others, in contrast, can be obsessed with the power of evil and evil spirits. What about your culture? What's the tendency, and how can you learn to strike the right balance when dealing with the reality of the supernatural battles in which we find ourselves?
Amen!

(

0

)

Print/PDF/Email