Read Frank B. Holbrook, "The Great Controversy," pp. 969-1008 in Raoul Dederen (ed.), Handbook of Seventh-day Adventist Theology.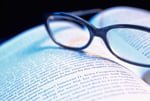 "The Bible is its own expositor. Scripture is to be compared with scripture. The student should learn to view the word as a whole, and to see the relation of its parts. He should gain a knowledge of its grand central theme, of God's original purpose for the world, of the rise of the great controversy, and of the work of redemption. He should understand the nature of the two principles that are contending for supremacy, and should learn to trace their working through the records of history and prophecy, to the great consummation. He should see how this controversy enters into every phase of human experience; how in every act of life he himself reveals the one or the other of the two antagonistic motives; and how, whether he will or not, he is even now deciding upon which side of the controversy he will be found."-Ellen G. White, Education, p. 190.
Discussion Questions
In the quotation from the book Education given above, Ellen G. White writes that the great controversy enters into every phase of human experience. How true has this been in your own experience? Has your understanding of the great controversy motif been a source of strength or frustration as you cope with the issues of daily living in the world of sin and suffering?
Some speak about a "delay" in the second coming of Christ. With the amount of injustice and senseless suffering in the world, it seems that every additional day of life on earth is one too many. Have the class members share their individual perspectives regarding the great controversy motif from the point of view of the so-called "delay."
How confident can we be about the final resolution of the conflict between good and evil? What gives you assurance that evil will be overcome in the end? What reasons do we have for believing that? How, for instance, does the prophecy of Daniel 2 help to give us assurance about the ultimate outcome?
In class, go over your answers to the final question on Thursday. The answer is especially relevant because of our understanding of just who the persecutors are going to be in the last days. How, then, can we be sure we will be on the right side?
Amen!

(

0

)

Print/PDF/Email