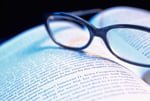 As Christ stands before the trafficking crowd in the temple, "the confusion is hushed. The sound of traffic and bargaining has ceased. The silence becomes painful. A sense of awe overpowers the assembly. It is as if they were arraigned before the tribunal of God to answer for their deeds. Looking upon Christ, they behold divinity flash through the garb of humanity. The Majesty of heaven stands as the Judge will stand at the last day . . . with the same power to read the soul. His eye sweeps over the multitude, taking in every individual. His form seems to rise above them in commanding dignity, and a divine light illuminates His countenance. He speaks, and His clear, ringing voice—the same that upon Mount Sinai proclaimed the law that priests and rulers are transgressing—is heard echoing through the arches of the temple: 'Take these things hence; make not My Father's house an house of merchandise.'
"Slowly descending the steps, and raising the scourge of cords gathered up on entering the enclosure, He bids the bargaining company depart from the precincts of the temple. With a zeal and severity He has never before manifested, He overthrows the tables of the money-changers. . . . None presume to question His authority. . . . Jesus does not smite them with the whip of cords, but in His hand that simple scourge seems terrible as a flaming sword. Officers of the temple, speculating priests, brokers and cattle traders, with their sheep and oxen, rush from the place, with the one thought of escaping from the condemnation of His presence."—Ellen G. White, The Desire of Ages, p. 158.
Discussion Questions:

  In class, go over your answer to Monday's last question. What are the major differences between us and a holy God? What are ways in which some of those differences can be eradicated, if any?  
 Given what we have looked at this week, why is it so much easier to see why self-righteousness and self-satisfaction, especially about one's own spiritual state, is a very dangerous deception? 
 Think about someone you know who is "holy," that is, who seems to be upright, honest, pure, and so forth; someone quite "set apart" from most people. How do you respond to the person? Does he or she make you feel good or bad, and why?  
Summary:
It might be much nicer to focus only on God's love instead of His holiness, but that would be to distort the truth. We need to encounter God's searing holiness until we tremble before Him. Understanding God's holiness, and our sinfulness in contrast, is crucial to helping us to understand what the atonement is all about, why it is so desperately needed, and why it had to cost so much.
Amen!

(

0

)

Print/PDF/Email