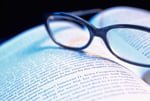 "Another year has almost passed into eternity. A few more days, and we shall enter a new year. My brethren and sisters, employ wisely the remaining hours of the old year. If you have in any wise neglected your duty, repent before God, and return to the path from which you have wandered. Remember how brief the period of life allotted you. You know not how soon your probation may close. Say not presumptuously, 'To-day or to-morrow we will go into such a city, and continue there a year, and buy and sell, and get gain.' God may have different plans for you. Life is but a vapor, 'that appeareth for a little time, and then vanisheth.' You know not how soon your hand may lose its cunning, your step its firmness. There is peril in a moment's delay. 'Seek ye the Lord while he may be found, call ye upon him while he is near: let the wicked forsake his way, and the unrighteous man his thoughts: and let him return unto the Lord, and he will have mercy upon him; and to our God, for he will abundantly pardon.'"—Ellen G. White,Review and Herald, December 23, 1902.
Discussion Questions:

  In class, discuss your answer to Thursday's final question. Discuss, too, the irony in the fact that the longer we're here, the easier it is to put off the sense of Christ's return, and yet the longer we're here, the closer we come to that return.  
 What are the reasons that Jesus has not returned yet? Are we responsible for that "delay"? Whether you think "yes" or "no," how do you justify your answer?  
 In your mind, what is the greatest reason for trust in the promise of the Second Coming?  

 Though there's much debate in science about human origins, many scientists argue that the long-term prospects for humanity, the earth, the universe even, are not good. They predict that the universe is going to burn out or collapse back on itself, leaving no life anywhere. As Seventh-day Adventists, we believe the long-term prospects for the universe are the opposite: they are wonderful. The point is, if science has the end of all things so wrong, why should we trust that its understanding of the beginning of all things is any more accurate? This is especially true when science's common understanding of the beginning is centered on various forces, including evolution, that deny a Creator or any purposeful design or intention in the creation itself. How much more wrong could it be?

Summary:
We have many very good reasons for trusting in Christ's return, no matter when it happens.
Amen!

(

0

)

Print/PDF/Email