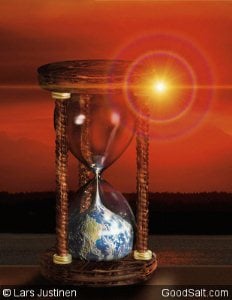 "Fear them not therefore: for there is nothing covered, that shall not be revealed; and hid, that shall not be known"(Matt. 10:26).1
Looking around at the world, we shouldn't have a problem understanding the idea of judgment and condemnation. One doesn't have to be a believing Christian to realize that something is radically wrong with humanity. Who can't see what a royal mess, even disaster, we've made of things? Maybe we cry so hard at birth because, instinctively, we know what's coming. "I cried when I was born and every day shows why," a poet wrote. Who can't relate? Who hasn't himself or herself been the victim of just how greedy, selfish, and mean people can be? Or who hasn't at some point been the greedy, selfish, and mean one?
Thus, if God is just, and if justice were His only major attribute, who among us would stand before Him? If the Lord knows even our secret things, our secret deeds (Eccles. 12:14) (much less what we have done in public), what chance would even the godliest among us have on the day of judgment, when all these things will be revealed?
Fortunately, though, our God is also a God of grace. The whole plan of salvation was established so that every human being could, ideally, be spared the condemnation that God's justice would demand. Without grace, we'd all be consumed by God's justice. Our only hope, then, standing before a just God, is grace.
Read the first angel's message in Revelation 14:6, 7. How do these verses reveal the link between God's justice and His grace? How do they also parallel what we saw in Genesis 3 and how it showed the relationship between grace and judgment? 
---
---
How interesting that before the warning that the "hour of His judgment has come" (NKJV), the angel is proclaiming the "everlasting gospel." It has to be that way, otherwise the judgment would condemn all humanity. No one would have a chance because all have sinned, all have violated God's law. Here, among the last warning message to the world, God's grace is proclaimed. Otherwise, judgment would condemn everyone, without exception. Without grace, what message would we have for the world other than that God is going to destroy us all and there's no hope of escape? Fortunately, the message we have has the "everlasting gospel" as its foundation.
What role are you playing in helping spread this message of judgment and grace to others? What more could you do to help spread it because, most likely, you could be doing more, right? Right?
Amen!

(

0

)

Print/PDF/Email