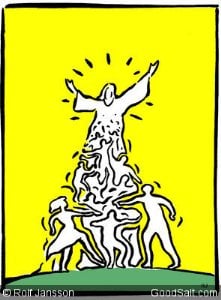 The local church is not simply a number of disconnected people who sit in the same building for a couple of hours once a week. According to Scripture, the church is a group of people who are as closely joined as are the parts of a human body. The possibility does exist, however, that people can meet together regularly without being a part of the body in a biblical sense. Although this unfortunate fact can be true in many areas of church life, we are focusing on the need to be united in the areas of evangelism and witnessing.1
Consider Ephesians 4:16. What would happen to the growth and effectiveness of a body if it lost its elbow, wrist, or knee joints? And what does Paul's analogy say about the church as a body of believers who has been given an evangelistic mission?
The apostle Paul says that a church body grows when all of the members do their share. What does this say about churches that are not growing? Our first reaction might be to blame those who we consider to not be doing their share. That might be true, but think about this: how often do churches deprive members of an opportunity to contribute to the body? If church leaders don't understand the ministry of all believers principle, they will not intentionally work for maximum involvement of the membership in church life and ministries.
Read 1 Thessalonians 1:5–8. What did the Thessalonian church do with the gospel that they had received from Paul?  
The church at Thessalonica is an example of a church that received the gospel and passed it on. It is still God's will that His church function in this manner.
The blessings that are received when each individual member works within a planned church evangelistic strategy are many. We will focus here on the important areas of encouragement and accountability. Working as a team enables us to consider these areas seriously. The lack of team encouragement has been the death of many a worthwhile lay ministry. While individuals may possess special talents and gifts, working toward common goals through corporate strategies is still the ideal. Likewise, the group dynamic encourages accountability, not in the sense of judgment but in the sense of review and evaluation.
In what ways could you work more closely with church members in the effort of reaching out to others? Why is it so easy to get complacent, sleepy, and inward focused?
Amen!

(

0

)

Print/PDF/Email