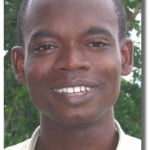 Monsuru Akinwande
I grew up in a non-Christian family in Nigeria. One of my Christian friends often talked to me about Christ. One day he invited me to give my life to Jesus, but I wasn't interested. Then I had a dream in which Jesus stood between heaven and earth, touching people who were on their way to heaven. But when I approached Him, Jesus didn't touch me. Instead He said gently, "You're not ready yet." I turned away, rejected.
I told my friend about my dream, and he explained that God was speaking to me, inviting me to follow Him. Wow, I thought. God would speak to me? He must love me! My friends helped me give my life to Christ.
One day I met a man who lives near the church my friends attended. He invited me to study the Bible with him. I wasn't sure I should, so I asked my friends what to do. "Go ahead and study with him," they said. "Just be sure that what he teaches you is truth according to the Bible."
As I studied the Bible with this man I realized that he knew his Bible well! And when he told me about the Sabbath, he showed me many Bible texts to prove that God never changed the Sabbath to Sunday. I was convinced that the Sabbath is Saturday. But I didn't know what to do about it.
My new friend gave me some books to read to help me understand the Bible better. He invited me to attend the Adventist church with him, and I went, glad to find the truth about God. The devil became angry and tried to stop me from being baptized, but I refused to give in.
Before I found Christ I was nobody. But God has adopted me and has called me to serve Him and share my faith with those who haven't met Jesus yet. He has opened the door for me to study at Babcock University, the Adventist university in Nigeria. I know that God will make a way for me to complete my studies and answer His call to service.
Please pray for me and my fellow Christians who have been called out of darkness and want to share God's light with others. And thank you for your mission offerings and Thirteenth Sabbath Offerings that have helped establish this great school where thousands of young people are being trained to serve God.
---
Monsuru Akinwande is studying theology at Babcock University in Nigeria.
---
Produced by the General Conference Office of Adventist Mission.
Find more stories like this at AdventistMission.org
email: info@adventistmission.org
Amen!

(

0

)

Print/PDF/Email