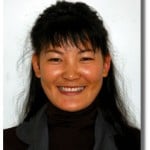 Enkhchimeg Enkhbaatar
Eggie's family wasn't religious, but when a classmate in secondary school invited her to attend church with her, Eggie agreed to go. She knew that her parents didn't mind, for her mother had told her that worshipping God was a good thing.
Her friend's church was a small group of 20 or 30 people who met on Sabbaths. Most were young people, and Eggie loved the vibrant worship service these youth led out in. Eggie invited her younger sister to attend, and eventually both girls were baptized.
Eggie finished high school and looked forward to studying to become a teacher. But her older sister was already studying at a university, and her parents couldn't afford to support two girls in university at once. Disappointed, Eggie found work as a waitress and saved money to study.
Eggie helped start a small group Bible study in another family's home. Her church family saw her leadership abilities and helped Eggie get a scholarship to begin her studies. Joyfully Eggie journeyed to Ulaanbaatar, Mongolia's capital city, to begin her studies.
She found a vibrant church family where she can grow spiritually. She teaches the children's class in church and hopes that when Mongolia opens an Adventist elementary school, she can teach there. In the meantime she encourages other Adventist young people to stay true to God and the beliefs they treasure.
In the dormitory where she lives, Eggie shares her faith with her schoolmates. "My friends want to know what I believe," she says. "I give them books about my faith and copies of my Sabbath School lessons. I invite them to church and share with them my joy in Jesus."
Eggie prays for her younger sister, who is working as a missionary volunteer while she awaits her turn to attend the university. "God is leading us, and we rejoice that we are working with Him to lead others to Jesus," Eggie says.
Mongolia is a small but growing mission field that relies on our mission offerings to help grow the church. Thank you for your part in this important ministry.
---
Enkhchimeg Enkhbaatar (left) works for the Mongolian Mission.
---
Produced by the General Conference Office of Adventist Mission.
Find more stories like this at AdventistMission.org
email: info@adventistmission.org
Amen!

(

0

)

Print/PDF/Email