I was a troublemaker in my village in India.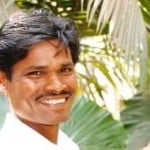 My father had introduced me to alcohol when I was 9 years old, and it became an overpowering habit. I quit school and stole money to buy liquor. My family, my health, and my friends all suffered because of me.
I began spitting up blood. Frightened, I stopped drinking until the blood-spitting ended. Then I started drinking again. I was 23 years old and married. Our lives were miserable because of my addiction. I drank up my earnings and left my family to find food.
One night I staggered home drunk and saw a man waiting at a bus stop. He turned to me and said he was a man of God. I stopped to listen, and he told me "There is a God who can solve your problems. I want to come to your house and tell you about Him."
"I'm not interested," I told him. "I'm a drunkard, and I don't know God." But the man walked with me to my home. There he told me about God. But I was too drunk to understand what he said. "I'm going to sleep," I said. "You can sleep here until morning."
The next morning I found the pastor still there, so we talked again. I was sober and could understand what he was saying about God. I was curious about this God who is alive and powerful and who answers honest prayers. I wanted to know more, so I went with the pastor to his house some 25 miles (40 km) to study with him.
God took away the desire for alcohol and cleared my mind. I accepted Jesus as my Savior and my wife and I were baptized in 2008. Today I know that the meeting with the pastor was a divine appointment.
My wife and I began sharing God's love with others. Today we serve as Global Mission pioneers, sharing God's love in my home town, where everyone knew me as a troublemaker, a drunkard, and an idol worshipper. They can see what God is doing in my life, and I tell them that God can do the same in their lives.
So far God has given us 20 people for Christ. I'm working with 30 or 40 more people. I am filled with joy that God could use me, a drunken idol worshipper, to bring the love of Jesus to others. Thank you for your offerings that help sustain the work of Global Mission and mission around the world.
Ramesh Raut is a Global Mission pioneer in India.
---
Produced by the General Conference Office of Adventist Mission.
Find more stories like this at AdventistMission.org
email: info@adventistmission.org
Amen!

(

0

)

Print/PDF/Email