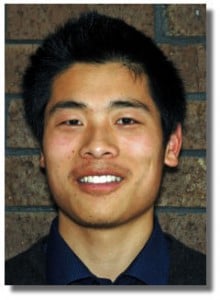 David Zhang
I grew up in China, where religion wasn't a part of our lives except that we honored our ancestors during special times of the year. I moved to New Zealand when I was 12 years old and had to learn English. I also began learning a bit about God in the weekly Bible classes offered in New Zealand's schools.
I enjoyed hearing Bible stories and liked to draw pictures of Bible characters. The teachers didn't tell us we had to believe in God; they just told us Bible stories and let us draw our own conclusions. For me this religious training was just a bunch of interesting stories.
When I entered high school, I asked some of my friends how they felt about God. Some of them were quite religious and went to church regularly. I asked them casual questions while were we hung out together, and this way I learned a little more about God.
Little by little I realized that religion should be more than simply Abelieve in God and you'll go to heaven, as some friends said. One friend told me that God has a plan for all of us, and this made me think. If God really did have a plan for me, what did He expect of me? Was the God my religious friends talked about the same God who made the world? Or was Creation an accident?
My Adventist friends seemed to know the most about what they believed and acted according to his beliefs. So when one of my friends invited me to his church, I went. I had never been inside a Christian church before, so I watched what the people did. He invited me back again, and I went. Then he invited me to go with him to youth camp. There I learned so much about what it means to be a Christian. I learned how to study the Bible and expressed my faith in Jesus.
When I told my parents I had become a Christian, they nodded. They don't know a lot about what it means to be a Christian, so I explained to them what I'm learning. They listen and sometimes ask me questions about what I believe.
My friends led me to Christ through their profession and their lifestyle, their words and their conduct. I=m learning to live my faith as they do, trusting Christ to make me a new creature. It's sometimes difficult, but God is patiently teaching me, and I am willing to learn. I urge others to be aware that people are watching them.
---
David Zhang lives his life for Christ in New Zealand.
---
Produced by the General Conference Office of Adventist Mission.
Find more stories like this at AdventistMission.org
email: info@adventistmission.org
Amen!

(

0

)

Print/PDF/Email