Six children of the Jacksonville Southpoint Adventist Church in Florida wanted to share their faith with others. They attended a weekend training program for kids called "Go Fish!" and learned several fun ways to tell others about Jesus. They learned to tell stories, lead singing, and use puppets. They returned home excited about what they had learned.
"So," their pastor asked with a smile, "How are you going to tell others about Jesus?"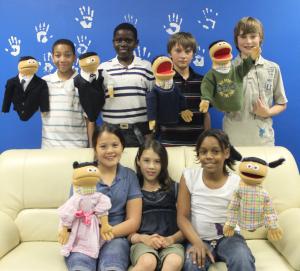 The children loved learning to work with puppets, making them look as if they're alive as they talk, listen, and wonder. At the end of the training session the children received a puppet of their own. "We want to use puppets to tell about God," one of the children said.
The children write their own scripts and help make their costumes and props with help from their parents. "One of our skits is about two boys who get into a fight," says Tenver, one of the puppet ministry kids. "The puppets' friends stop the fight, and they talk about how peace is one of the fruits of the Spirit."
"We also do skits about Bible characters," says Isabel, another member of the group. "One of our skits is about the ten lepers Jesus healed."
It takes a lot of practice to learn the lines and coordinate the puppets' movements with the words so they look realistic. But the children, who are between 10 and 12 years old, are willing to work hard so others can learn that God loves them and has a plan for their lives.
"It's easier to tell others about Jesus when your friends are working with you, says Tenver. "At first I was a little scared because I had never done something like this before. Now when I see the smiles on people's faces when we finish a program, I know it's worth the work."
Sharing Jesus with others is an important part of the team's ministry. "Recently we took our puppets to a program that helps teenagers who have dropped out of school and gotten into trouble," Abigail added. "We presented several skits for them and pray that we helped them get their lives back on track."
For the children in the puppet ministry, learning how to be God's disciples has involved learning to talk with their hands. They are helping other boys and girls learn that Jesus wants to be their best friend forever.
---
The children in the puppet ministry attend the Jacksonville (Florida) South Point Seventh-day Adventist Church.
---
Produced by the General Conference Office of Adventist Mission.
Find more stories like this at AdventistMission.org
email: info@adventistmission.org
Amen!

(

0

)

Print/PDF/Email