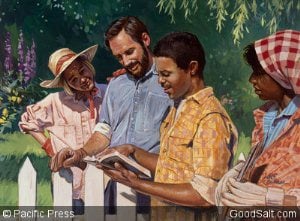 by Bobby Wagh
Raju heard the singing coming from the neighbor's house and turned his music up as loud as possible. Sometimes he could still hear the singing, and he shouted abuses at the little group of Adventist believers who worshipped next door.1
Other neighbors avoided confronting Raju about his actions. They left the troublesome neighbor to the Adventists to handle. The believers visited Raju and offered to pray for him and his family. But their kindnesses only irritated Raju more. He purposely chose the believers' worship time to bathe his idols and pray to them.
Raju's first child died shortly after birth, but the man refused to let the believers pray with him. When his second child also died shortly after birth, Raju worshipped his gods with renewed vigor. But then his third child died; Raju felt desperate. He ceased worshipping his idols and stored them inside his house.
When Raju's wife became pregnant again, Raju was filled with fear that he might lose both his wife and the child she carried. Once more the Adventists offered to pray with Raju and his wife and unborn child, but still Raju refused.
The child was born apparently healthy, but soon he developed jaundice, just as his older siblings had. The doctors told Raju that only a full blood transfusion would save the baby. Raju felt powerless and desperate.
The Adventists learned of the baby's illness and visited the family in the hospital. Raju was distraught over his tiny son's fragile condition. Desperate, he allowed his Adventist neighbors to pray for his wife and son. The group gathered around the bed and earnestly petitioned God on behalf of mother and child.
As the baby grew stronger, Raju and his wife rejoiced. They realized that their son was alive because the God of the Adventists had shown mercy on them. Raju and his wife began attending church next door to their house, and in time they gave their hearts to the Lord. They threw their idols into the river and asked to be baptized.
Now, instead of raising a ruckus with loud music during the believers' worship, Raju sings God's praises loud and clear. He is sharing his love for God with others and helping the little group grow. Our mission offerings help raise up congregations in areas such as Raju's, where few believers live. Thank you for helping share God's love through your mission offerings.
---
Bobby Wagh is treasurer of the South Region of Western India Union.
---
Produced by the General Conference Office of Adventist Mission.
Find more stories like this at AdventistMission.org
email: info@adventistmission.org
Amen!

(

0

)

Print/PDF/Email