My friends call me Toogii (TAW-gee). I live in the capital city of Mongolia.
My family isn't Christian, so I grew up not knowing much about Jesus. One day a friend of my grandmother gave her an invitation to meetings at the Adventist church, where a missionary was speaking. Grandmother gave the invitation to my aunt who asked me to go with her to the meetings. I wasn't really interested, but I went out of respect for her. And I was curious about Christians.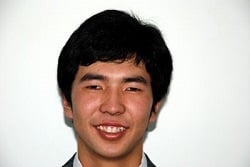 I was surprised that I enjoyed the meetings. The people were kind, and the pastor spoke about the kingdom of God. I decided to return to the church again. Before too long, I asked to join the church.
I am the only member of my family who is a believer, and this creates some problems for me. My father tries to keep me from attending church by giving me work to do on Sabbath. But my mother lets me go because what she's heard about Jesus and His teachings is good.
My friends teased me about becoming a Christian, and I felt ostracized by them. Some of them were bad influence, so when I became a Christian, I quit hanging out with them. Some kids thought I was bad before I became a Christian, and when I became a Christian, they thought I was becoming something even worse. I didn't know how to explain my faith to them. There aren't that many Adventists in Mongolia, so I felt alone.
The pastor invited me to camp meeting that summer. I was so excited! I made lots of new friends and had lots of fun playing sports and learning about God. It was a great experience. Being with other Christian young people has helped me mature in my faith.
I was shy and didn't talk a lot before, but I'm learning to speak in front of people and express myself. Christ and my new friends in church have given me confidence. Now I can talk to people easily and can express myself better. When my classmates see the changes in me, they realize that God has made a difference in my life and that Christianity isn't a bad thing.
It's difficult to be the only believer in the family, but the friends I've made in church are like my family. They help me stay faithful to God when I feel weak. I'm especially grateful for the youth ministries the church offers. The youth camp was established in part with a recent Thirteenth Sabbath Offering. Thank you for caring.
Munkhtogtokh Nyamdavaa is a teenager living in Ulaanbaatar, Mongolia.
Like
(

21

)

Print/PDF/Email