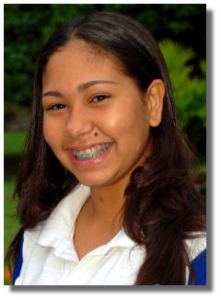 Eduarda Araújo
My family wasn't religious until my aunt invited my mother to attend a spirit worship center. Mother was trying to find her way to God, so she went with my aunt. Mother didn't really understand what she was getting into at the spirit center. She didn't know that these spirits were not from God, though she was uncomfortable when people called upon the spirits.
My father didn't like the spirit worship either and showed his disapproval by attending a traditional church. Church didn't change my father's life however, and he continued drinking. In fact, his drinking increased. Often he came home drunk. During this time our family became increasingly unhappy, and mostly it was because of religion.
My brother and I were taking karate lessons during this time. Our teacher said all roads lead to God. Then he met an Adventist and began studying the Bible with him. Before long our teacher was baptized into the Adventist Church. My brother and I noticed changes in our teacher's life, and he told us that he had been wrong, that there is only one way we can find God, and that is through Jesus Christ. But when he offered to study the Bible with my parents, they refused.
As conflicts increased at home, Mother wondered whether studying the Bible could make a difference in our family. She agreed to study the Bible with our karate teacher, but my father wanted nothing to do with studying the Bible.
Mother's interest in studying the Bible deepened, and she took my brother and me with her to the studies. Dad wanted to be sure that we weren't learning anything we shouldn't, so he began attending the Bible studies with us.
Mother began attending a nearby Adventist church and took my brother and me with her. At first I didn't like the idea of going to church on Saturday, but in time I realized that these were God's choices for us.
Eventually Dad accepted the truth he was learning and attended church with us. Our family was baptized together. At last our home was united in Christ.
I'm thankful that God puts people in our lives to help us find Jesus. Today I'm studying in an Adventist academy, where I am learning how to share God's love with others. Your mission offerings help support my school and so many other forms of outreach to lead people to Jesus. Thank you!
---
Eduarda Araújo lives in northern Brazil, where she studies at Instituto Adventista Agro-Industrial.
---
Produced by the General Conference Office of Adventist Mission.
Find more stories like this at AdventistMission.org
email: info@adventistmission.org
Amen!

(

0

)

Print/PDF/Email