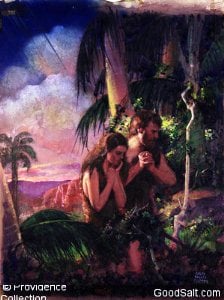 Think about this: before sin, there was no need of grace because there was nothing to forgive, nothing to pardon, nothing to cover. It's the same with judgment. Before sin, there was nothing to judge, nothing to condemn, nothing to be punished. Both grace and judgment arise, at least in a human context, only because of humanity's sin.1
Read Genesis 3, the account of the Fall. In what ways are both themes, that of judgment and grace, revealed?
---
---
Satan succeeded in bringing sin into the world, changing everything as a result. Immediately, though, the Lord entered, calling out "Where are you?" This question doesn't have to be seen as condemnatory; it was more an invitation to come to Him, the One who created and loved them. It was a call to turn away from their deceiver and to return to their Maker.
Notice, too, what happens. The first few lines from the mouth of God in this fallen world are questions (see Gen. 3: 9, 11, 13). Then the first thing God says after He's done questioning is to declare His judgment against the serpent. But next, in verse 15, even amid His judgment against the serpent, what does God say?
Verse 15 is the first gospel promise. As soon as He declares His judgment against the serpent, He then immediately gives the first message of grace, of redemption, of salvation for humanity. And only then, only after that gospel promise, does He start declaring His judgments against the woman and the man. Though they fell, the first things God gives them are hope and grace—the grace that forms the background against which judgment is to unfold. Thus, even before judgment, the promise of grace is given for those who will accept it.
It's too late for Satan; his destruction is assured. But there, even amid the judgments passed on to the man and the woman, God makes His grace known.
At the beginning of fallen human history, then, a relationship between sin, judgment, and God's grace emerges. Though God must judge and condemn sin, the promise of grace is always there, always present, always available for those who will claim it for themselves.
In what ways might the Lord be saying to you, "Where are you?" What are you doing that, perhaps, is causing you to hide from Him? Why is understanding grace a crucial first step in heeding His call to draw near to Him and away from the deceiver?
Amen!

(

0

)

Print/PDF/Email