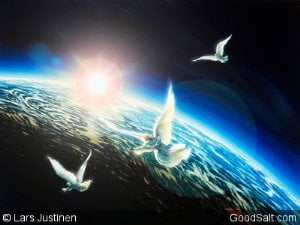 The theme of judgment, divine judgment, runs through the entire Bible. And contrary to common beliefs, judgment is not contrary to salvation or to the gospel. Indeed, both themes are woven together in Scripture from Genesis through Revelation.1
And no wonder. Judgment and salvation reflect twin aspects of God's character: His justice and grace. Thus, we should not pit the idea of judgment against the idea of salvation any more than we should pit the idea of God's justice against His grace. To do so is to rob both of their fullness and mutual complementarity. Scripture teaches both; hence, we need to understand both, as well.
What also is interesting about the whole topic of judgment is that, verse for verse, the New Testament talks more about judgment than does the Old.
Read the following verses. What are they about? Who is judged? What happens in these judgments? What do these texts reveal about the nature and reality of divine judgment? 
---
---
---
---
---
---
---
---
---
---
These are just a small sample of the texts that clearly teach judgment. As noted above, many of the most explicit judgment texts, texts that clearly reveal the reality of divine judgment, or judgments, appear in the New Testament. This fact certainly works against the notion that judgment is somehow contrary to the new-covenant concept of God's grace, which is also clearly taught in the New Testament. What this should teach us is that however we understand judgment, and however we understand grace, we must understand them as divine truths that work together with each other. To pit one against the other is to misunderstand the fullness of the gospel, which we looked at last week.
Amen!

(

0

)

Print/PDF/Email