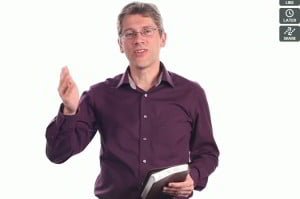 Martin Pröbstle's introduction to Lesson 8, is now available through the SanctuaryLesson.org domain on Vimeo. Thanks to the work of a small team of volunteers at Seminar Schloss Bogenhofen (link to video tour), a Seventh-day Adventist seminary in Austria, we can invite Dr Pröbstle himself into our homes or our Sabbath School classes to introduce the lesson. Direct link to "Christ, Our Priest." (It runs just under 8 minutes and would work as an introduction in a Sabbath School class.)
Or you can click on the image below:

WEEK EIGHT | "Christ, Our Priest" from Seminar Schloss Bogenhofen on Vimeo.
You can see previous videos by clicking on the Seminar Schloss Bogenhofen link or the SanctuaryLesson.org link. (Seminar Schloss Bogenhofen college web site.)
If you are using a mobile device, the Youtube version will probably work better for you. It runs perfectly in my Android Youtube app:
Amen!

(

6

)

Print/PDF/Email