Raphael lives in Kenya, Africa, and the story below is what he shared with us. This is the first of what we hope will be many more profiles of Adventists around the world.
---
"I would like to tell you how God took me from an unwanted child to the most respectable member of the family, which is my testimony to how good God is."
As I was raised by my grandparents I used to see Kijabe (see Wikipedia) at distance which is on a Rift Valley escarpment. We were living at Rale while at this time my parents were living at Kingeero where I was born, but they relocated to Maai-mahiu not long after they took me to Rale from nursery to Standard 6 in school.
While I was staying with my grandparents I repeated Standard 6.  I think it was because my grandfather who was a farmer had passed away the previous year (1988). The next two years, I was with my parents at Maai-mahiu.
Let me explain the feeling I had for my parents then. What would you feel if I tell you I take one glass of water every day. Does it mean anything? No I am not the only one taking a glass of water a day. What about if I tell you I know how to write letter Q? Others can too. In the same way, my parents were no different to me than any other person. I didn't have feeling for them. I learned the word mother and father from my science teacher as the head of the "nuclear family." I never thought I had nuclear a family. I thought I belonged to an extended family.
At this point we were eight – seven brothers and one sister. Today we are four brothers and one sister who is older than me. The other three joined our Maker, as we say.
Education was not free when I was in school in Kenya. (Free education was introduced by the current government which came into power in 2002 and is on its final term.) When I went to school, parents had to pay for every pupil they brought to school — activity fee, watchman money (for school security), building fee, examination mock, continuous assessment test, tuition etc. If it was free like today, I could have walked in and pursued what I wanted most – to become  a lawyer. But I am happy now; I am Jesus' lawyer on earth.
My grandfather used to pay my education but after he passed away, Grandmother could not manage it. So two years later I was introduced to my nuclear family. To me they were just like neighbors — no feeling of parental connection. But now I love them very much, especially my mother. To me she is now the best mother in the world.
Our system is like this: 8-4-4, eight years in primary, four years in secondary, and four years in university. You don't require college (adult education) if you can make it through to university. College is for primary school dropouts and those who do not go on to university after passing KCSE, Kenya Certificate of Secondary Examination.
At my father's house we started repairing bicycle punctures, since Asians were the only ones doing so and were not doing it quickly. We didn't have anywhere to put customers' bikes so we had to repair them on the spot. Customers liked our service because it was instant and it didn't interfere with their freedom. Later, I used this experience to start my own business.
After my primary education, my younger brother came home one afternoon with a brown envelope with my name on it. The letter was to inform me that I had secured a vacancy at one of the local secondary schools. I happily informed my father, but he did not want to hear it.
My elder brother went on to secondary school but dropped out in Form 1. My brother thinks it was because Father did not return him to school after he was sent home to fetch school fees. My sister dropped out in Class 6 after I caught up with her and left her one class behind. My younger brother Douglas, who brought the invitation letter home, was sponsored by our primary school which had started noticing our not continuing with school after KCPE (Kenya Certificate of Primary Examination).
You see, twenty years ago I sat for my KCPE (1992) and 3 months later I was on my own. On my 16th birthday I was chased away from home because, according to my father, I was only thinking about school.
After taking some rags and putting them in a paper bag, I started walking towards nowhere. Luckily as I was about to enter Kijabe Forest, a young man introduced himself to me and asked whether I could be a shamba boy, and I found myself saying, "Yes, yes." (A shamba boy will do anything difficult as a hired hand, from milking, taking milk to the dairy, working in the garden, resting only on holiday for a few hours before resuming work.) The young man took me to his aging parent and I spent few days there before his uncle showed some interest in me.
The uncle then took me in for two years before his nephew took me away to Kinangop where I worked as a shamba boy for another two years before deciding to go to Nairobi for a better future.
During those four years I was away, I happened to visit home and reluctantly told them where to find me. One day my elder brother came looking for me and we arranged how I can go to Nairobi since he was working there. One Saturday he came for me and took me to the city. But after a few months , one day I found my clothes outside and no one was there. I waited outside, and after a lot of cold, I decided to take a walk at about 9 pm. I came to this bridge at a place called Rungiri where I took refuge during rainy seasons. And that's where I stayed nights. I can't forget that season because it was April 1998 and rainy, and I had to wake up early so that no one would notice where I slept and then I would come back to the bridge very late.
After two weeks I saw my brother. He didn't even want to know what happened to me. Sometimes I was walking from Westland to Rungiri since I didn't have 5 ksh (Kenya shilling) for bus fare (See Yahoo for conversion to local currency).
One day as I was repairing a customer 's children's bicycle puncture, the boy commented how dirty I was, and it's like I am not a street boy. His farther gave me 300 ksh instead of 5 ksh and told me, "Next time I don't want find you like this." With 300 ksh I went to the Gitaru market and rented a one-room house for 250 ksh and no longer had to live under the bridge.
I relocated from Gitaru to Uthiru in 2008 not many years after I got the 300 ksh, because it is 4 to 5 kilometers from there to Westlands where I work. Westlands is a Nairobi constituency and is the most expensive shopping center in Kenya and East Africa. This gives me an opportunity to survive here on earth. Although I am not rich, I live with over one dollar a day.
Five years ago I met this beautiful girl, Ruth, and I feel in love with her. She was well behaved, and she was not like city girls, even though she was not born again. We didn't know much about marriage in church, so we had what they call "come we stay" for a few months. After we got married, she became pregnant, and the next thing she started going to church on Saturday.
I didn't bother her a lot since at this time I had started developing a soft spot for church people although I was not born again. She told me one day she was going to be baptized at Uhuru Park, and she needed me to help her with taking care of her belongings. I refused because I could not afford to lose a day's income.
Before our first child was born, she converted to being a Seventh-day Adventist. After she gave birth to our daughter Rahab (now three years old who is in baby class at the church we attend, Tommie Fulp Adventist) she and my sister in-law requested me to escort her to church so I can carry the baby to church before going to work. After the song service I could walk out and go to my place of work, but within a few months I began  to wait until divine service was over, and I could go and open shop after lunch break.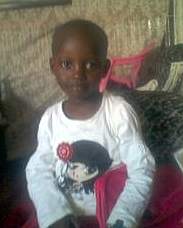 After I admitted that I liked their teaching in church, Ruth told me I need to give my life to Christ and join the baptismal class. I didn't know what that was, and the following Sabbath after song service she and her sister took me to a small gathering of about 20 people. They told the elder in charge their mission there. So after the elder finished his teaching, he requested us to come earlier the next Sabbath. After studying for some time,  I was one of 12 people who were baptized in the main church. I am the only member of the SDA Church in my family. My mother was and is still a Roman Catholic believer.
I am now a plumber. I learned this trade from plumbers who used to take me as a helping hand whenever they got a contract. Apart from being a plumber, I also own a small hardware store called Longonot Hardware Store in a five by eight-foot stall called a "hawker stall." (The sign for my stall is shown here.)

That's where I pass my time when I have not secured any contract (You can find my business on the internet at mocality.co.ke, then enter the name of my business which Is LONGONOT HARDWARE STORE). This is also where plumbers used to take me as their helping hand not long before Nairobi city council awarded what they call  a "hawker stall," which is 5×8 feet. This is the place where my business is set up.  However, my father came to that base first, and he owns it under my mother's name. This made it difficult for him to dispose of it without our full knowledge. I had to make up with him so he would know that no matter what happened before, I love him. I asked him to go back to the village and I would meet his needs there. At first he resisted, but later he agreed under one condition, I send him 800 to 1000 ksh every Thursday, which is market day, and I agreed. He was used to daily city life, where he got 500 ksh per day and spent 300 ksh on transport, and after daily shopping he ended up saving nothing. (Here In Kenya if you are in town and you earn 1000 ksh per day and someone in village earns 200 ksh per day, the one in the village is better off than the one in the city, because in the village 80 per cent of daily needs are free and direct from the garden. In the city everything you do costs money, including drinking water.) I told God He will have to supply the money, which He is doing for me.
That extra money was and is a special gift from my Creator in answer to my request – a gift from the One who created heaven and earth, sea and all those who live, the One who did all those things recorded in Genesis chapter 1&2. This God answers my request whenever I seriously request.
Whatever I have ever requested seriously, He always gave it to me. I don't have what I don't have because I have never asked Him for what I don't have. I only need those things which will glorify his Name and those things which will make the  world know He exists. And through Jesus Christ all things are  possible. (For example. I wanted the world to know what He did for me and in Jesus name it's happening through this article.)
We all have the same trade, plumbing, but apart from that, my younger brother Douglas can speak better English than me, and he had lots of opportunity to be employed which he doesn't use. I think our living standard is alike. Most of my customers are foreigners, and most of them don't know how to speak English.
Now 14 years since Rungiri and a horrible life, I am a self-employed born-again Christian, married and a farther of one. I am also a deacon in my church, the Kabete Seventh-day Adventist Church. God knows why, maybe I could have got lost in the world. Maybe I could not have known Christ as my personal Saviour and God as owner of everything. I need just to beg him to give me some of his property so that I can take the Gospels out of Jerusalem to the farthest corner of the world.
I think I became the most respectable member of my family because they didn't expect me to forget and forgive. I think everyone expected me to have revenge as I grew up, but that was not what I did. Instead I learned to love them. As I grew up, I realized that I can't have other parents apart from them. They are my biological parents and nothing can change that.
I hope you see in all of this the hand of God taking me from an unwanted child to the most respectable member of my family. May God be with you as we join hands in taking the Gospel to the end of the world beginning from our door mats.
---
Raphael first commented on our blog on April 21, 2012. Tyler Cluthe noted that Raphael had a story to tell and followed up with him. Many emails passed back and forth, and much time passed. But we are happy to publish the story now. It is edited for readability, as are all our articles.
Do you have a story to tell about what God has done in your life in your part of the world? We would love to hear from you. Please contact us and let us know.
Amen!

(

1

)

Print/PDF/Email