(Mark 2:27-28)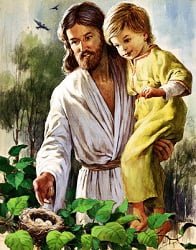 Many who claim to keep the Sabbath do not always understand what Sabbath keeping entails. As did some of the Pharisees in Jesus' time, people even today have imprisoned the Sabbath behind rigid walls of rules and regulations (while others have almost made it a day no different than any other). The Sabbath is supposed to be a delight, not a burden, but it is still a day to be kept holy.
During the time when Jesus walked this earth, some of the religious leaders had surrounded the Sabbath with thirty-nine other commandments. They reasoned that if people could keep the thirty-nine laws, then the Sabbath would be perfectly kept. As a result of this well-intentioned law-making, the Sabbath-which was intended to be a joy-did, indeed, become a yoke to many.
Carefully read Mark 2:23-28. Why did the disciples pluck grain? Does the text indicate that Jesus participated with the disciples? What biblical laws were being violated, if any?
As Jesus and His hungry disciples walked through a field one Sabbath, the disciples decided to satisfy their hunger by plucking grain. Although it was not their field, their actions were permissible under the law of Moses (see Deut. 23:25), even if the Pharisees interpreted it as a violation of another Mosaic law that forbade plowing and harvesting on the Sabbath (see Exod. 34:21). Apparently, Jesus did not partake of the grain; nonetheless, He took the time to defend the disciples' actions. Jesus reminded the Pharisees that even David and his men had eaten the forbidden sanctuary bread when hungry.
In Mark 2:27-28, Jesus said that the Sabbath was made for the benefit of humans, not vice versa. In other words, the Sabbath was not made to be worshiped, but rather to provide opportunities for worship. As God's gift to all humans, the Sabbath is not meant to oppress but to provide release and liberation. It is truly a way to experience our rest and freedom in Christ.
What are some things that you can do on the Sabbath that you can't so easily do other days of the week? Think through this question, and bring your answers to class on Sabbath.
Amen!

(

14

)

Print/PDF/Email