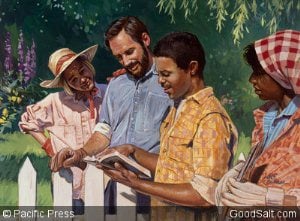 A witness is one who gives a testimony, one who attests to something that he or she knows from personal experience. A Christian's personal testimony regarding the work of God in his or her life can be very powerful. On one occasion Jesus healed a demon-possessed man (see Mark 5:1–19). When the healed man wanted to follow Jesus, Jesus told him to: " 'Go home to your friends, and tell them what great things the Lord has done for you, and how He has had compassion on you' " (Mark 5:19, NKJV).1
Without question, the short time that Jesus spent with this man was insufficient to tutor him in the art of teaching or preaching. Nevertheless, Jesus told him to witness about what he knew. That is why Jesus said to him, " 'Go and tell.' "
Read Mark 5:18–20; Acts 22:15-16; and 1 John 1:3. What common and important point is being made by all these texts?
---
---
God has given us the responsibility of sharing how He has changed our lives just as He did to the formerly demon- possessed man at Gadara and to His other followers.
Witnessing, that is, sharing one's personal experience of God—all with the intention of encouraging others to accept Christ—is not necessarily as organized or as intentional as radio, television, or crusade evangelism. Being a witness can be very spontaneous given that the opportunity to share Jesus can arise anywhere at any time with anyone. We must, therefore, be ever alert for opportunities to share our knowledge and experience.
As to the relationship between witnessing and evangelism, we can say that they are each essentially different strategies for reaching the goal of winning souls for Christ. Witnessing is more spontaneous and short term, while evangelism tends to be more long term and intentional. Sometimes planned evangelism is enhanced by the personal witnessing of those involved, and sometimes spontaneous witnessing leads people into a more planned program. However it happens, both are a vital component in the overall process. When we share what Jesus has done for us, those who are open to the leading of the Holy Spirit will want to know more. It's also a lot easier for people to argue against your doctrine, your theology, your beliefs. It's not, however, so easy for them to argue against your own personal testimony.
When was the last time you had a chance to witness to someone about what Christ has done for you? What did you say? What was the reaction? How has Christ changed your life? What is there in your life that would make someone want to learn more about Jesus?
Amen!

(

0

)

Print/PDF/Email