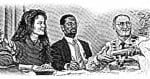 Read for This Week's Study:
Eccles. 4:9–12; Psalm 37; Phil. 1:5–18; Eph. 4:15-16; Col. 1:28-29.
Memory Text:
"And the things that you have heard from me among many witnesses, commit these to faithful men who will be able to teach others also" (2 Timothy 2:2, NKJV).
Key Thought:
The dissemination of the truth of God is not confined to ministers. The truth is to be scattered by all who claim to be disciples of Christ.
As we have seen, it is important that all believers recognize their God-given potential. Scripture gives […]