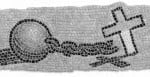 Read for This Week's Study:
Gal. 3:26–4:20; Rom. 6:1–11; Heb. 2:14–18; 4:14, 15; Rom. 9:4, 5.
Memory Text:
"So you are no longer a slave, but a son, and if a son, then an heir through God" (Galatians 4:7, ESV).
Paul tells the Galatians that they should not live and act as slaves but as the sons and daughters of God, with all the rights and privileges thereof. Their situation was similar to the story of a discouraged new convert who came to talk with Chinese Christian Watchman Nee.
" […]