6: For What Nation Is There So Great? – Singing with Inspiration
Flipping through the new quarterly, there are a number of titles that have the word 'love' in them – Love, to Be Loved; To Love God; He First Loved Us; To Love the Lord Your God; to name just a few. Hence, I believe a wonderful hymn to devote to as a theme will be
Hymn 349 – God Is Love. Our first Memory Text says "for God is Love", 1 John 4:8. As the book of Deuteronomy is the book of the covenant, it would also be good to add
Hymn 347 – Built On the Rock as verse four tells us of God 'Making with us His covenant".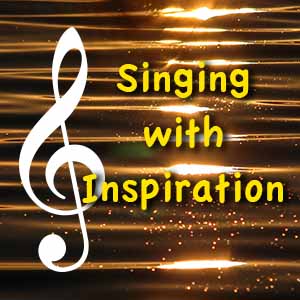 Oh the joy of being able to have the Everlasting Covenant which we find in
Hymn 469 – Leaning On The Everlasting Arms of our Lord Jesus.
Our Sabbath afternoon introduction helps us to be mindful of the words of
Hymn 590 – Trust and Obey. To obey, is continued on in Sunday's study. To help us through life's toils, we are at liberty to ask
"Savior, Teach Me day by day, Loves' sweet lesson to obey" – Hymn 193. Further help is granted in
Hymn 261 – The Spirit of the Lord Revealed (verse 3).
Choices came to Israel, as they come to us today –
Hymn 606 – Once to Every Man and Nation. Today we wish to worship only God, the Creator of our universe:
Hymn 6 – O Worship the Lord and
Hymn 83 – O Worship the King.
Matthew 12:30 (Tuesday) asks that we be committed to Jesus alone:
Hymn 634 – Come All Christians Be Committed.
Israel was to be the light to all the nations. We, also, can be a light to all around us and sing
Hymn 580 – This Little Light of Mine.
Hymn 22 – God Is Our Song asks "Give back to us the wisdom we destroy" just as many did in Israel of old. (Thursday). Wisdom is requested in
Hymn 90 – Eternal God Whose Power Upholds (verse 2),
Hymn 277 – For Your Holy Book We Thank You (verse 3) and
Hymn 547 – Be Thou My Vision (verse 2). The last snippet of study shows that Israel would have done justice to God's law if they had lived it and practiced what they preached:
Hymn 316 – Live Out Thy Life Within Me.
We are bound for The Promised Land! Hallelujah!! Come, Lord Jesus come – very soon.
Blessings for a wonderful week ahead.
To learn unknown hymns, you will find the accompaniment music for each one at: https://sdahymnals.com/Hymnal/
Another great resource is for when there is a hymn you wish to sing, but can't find it in your hymnal. Go to https://www.sdahymnal.org and in the search bar type a special word in that is in the hymn. I am sure you will be amazed at the help you will be given.
2 Timothy 2:15 KJV – "Study to shew thyself approved unto God, a workman that needeth not to be ashamed, rightly dividing the word of truth."
Amen!

(

2

)