An App for Missionaries Any Time, Anywhere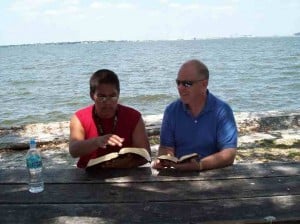 Have you ever been talking to a friend at school, work or play, and been asked a Bible question, but did not have the Bible answer at your fingertips? Well now you can have a prepared Bible study at your fingertips, or at least as close as your cell phone or tablet.
Now anyone can share a Bible study with anyone, any time, anywhere with the In Light of the Cross Bible Study Guides App (for Android).[1. Currently, only an Android app is available. An app for iPhones and iPads will follow.0
Many churches are on a budget today and do not have a lot of money to buy Bible study guides, as they can be quite expensive. This app is free, and I have held several Bible studies where we studied the lessons from our phones or tablets so as to save costs and paper. Also, while some forget to bring their Bibles or lessons to class, hardly anyone ever forgets their phone or tablet.
While many Bible study apps link to websites, this app actually has the Bible studies downloaded to the app. Instead of just a few reference verses for each topic, you get a verse-by-verse presentation on several Bible topics, and can choose between the KJV or NLT, as the Bible verses are provided after each question, Bible Readings for the Home [2. You can still get Bible Readings for the Home at Amazon.com, Amazon.co.uk, Amazon.ca] style. And yes, you can also link to the web for additional studies and devotionals.
Pastor Glenn Aguirre was sharing from his pulpit a few Sabbaths ago at the New Port Richey, Florida, Seventh-day Adventist Church, that these are his favorite Bible study guides to use in his presentations.
While many people chain reference their Bibles, some do not like to mark in their Bibles for whatever reason. Now they don't have to. Now they have a chain referenced Bible study on their In Light of the Cross Bible Study Guide App (for Android devices).
I prayerfully hope this is a blessing to you and those you meet. Be sure and share this with your friends who want to give studies or just learn more about God's love and the Bible themselves.
Direct link to the Android app, in case some of the links above do not work: https://play.google.com/store/apps/details?id=appinventor.ai_geekoffcall.InLightOfTheCross_release2 (An App for iPhones and iPads will follow.)
---

(

10

)