Discipleship and Prayer – Hit the Mark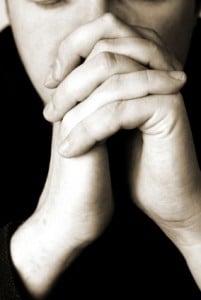 She seems an unlikely character for this week's discussion on discipleship and prayer. Throughout her story as recorded in the Gospel of John, prayer is not once mentioned. She is not one of the many who came seeking Jesus for miraculous healing from some incurable illness. As a matter of fact, she didn't even initially recognize Jesus as they conversed together. Yet, her brief interaction with Him speaks volumes about our experience with God as it relates to prayer.
While her entire story from beginning to end is full of valuable lessons for many aspects of life, we will listen to just a small part of her discourse with Divinity.
Jesus, in his humanity, sits at Jacob's well in Sychar. Unable to draw the water himself he asks this woman of Samaria for a drink. In her shock that a Jew would dialogue with a Samaritan, she seeks an answer from Him about this break from tradition. It is here where the lesson of prayer begins.
"Jesus answered her, "If you knew the gift of God and who it is that asks you for a drink, you would have asked him and he would have given you living water." John 4:10 NIV.  If you only knew who you were talking to…
What would life for us be like if we really appreciated who we were conversing with in prayer? Sure, we all readily agree that prayer is talking to God one on one. But the evidence shows that we often pray in a spirit of lowered expectations.
This is not a problem exclusive to our generation. In the days when Jesus walked this earth as man, He addressed this issue in a way to show the higher priorities of life. "Consider the lilies how they grow: they toil not, they spin not; and yet I say unto you, that Solomon in all his glory was not arrayed like one of these. If then God so clothe the grass, which is to day in the field, and to morrow is cast into the oven; how much more will he clothe you, O ye of little faith? And seek not ye what ye shall eat, or what ye shall drink, neither be ye of doubtful mind. For all these things do the nations of the world seek after: and your Father knoweth that ye have need of these things. But rather seek ye the kingdom of God; and all these things shall be added unto you." Luke 12:27-31
Today, I am reminded that God "is able to do exceeding abundantly above all that we ask or think" Ephesians 3:20 I hear Jesus saying to me as he did to the woman of Samaria, "I that speak unto thee am he." John 4:26
My operating in a spirit of low expectations must be replaced with a deeper belief that comprehends the priceless offer of heavenly resources when He says "Ask and it will be given to you; seek and you will find; knock and the door will be opened to you. For everyone who asks receives; the one who seeks finds; and to the one who knocks, the door will be opened." Luke 11:9, 10
I must no longer limit my prayers to primarily seeking relief from financial or other common life trials. Realizing more fully who it is I am speaking to I will ask Him to do what no other can do; make an entire change in my heart and life. Whether I'm rich or poor let me be content but free me from the sins that do so easily overwhelm me. My expectations must be higher.
And as I pray for my deliverance from evil, so too will I pray in earnestness and desperation for my family, friends, co-workers, neighbors and even my enemies. I will pray for God's blessings on their lives and I will be a part of the answer to those prayers by following the example of Job, "I was eyes to the blind, and feet was I to the lame. I was a father to the poor: and the cause which I knew not I searched out." Job 29:15, 16. My expectations must be higher.
Whether I'm free or bound, give me excellence in my service to the Kingdom of God. Help me to rise above selfish goals of success that feed my ego and allow me to be one of those at the end of time when the King shall say "Come, ye blessed of my Father, inherit the kingdom prepared for you from the foundation of the world: For I was an hungred, and ye gave me meat: I was thirsty, and ye gave me drink: I was a stranger, and ye took me in: Naked, and ye clothed me: I was sick, and ye visited me: I was in prison, and ye came unto me." "Verily I say unto you, Inasmuch as ye have done it unto one of the least of these my brethren, ye have done it unto me." Matthew 25:34-26, 40. My expectations must be higher.
Here are a few Hit the Mark questions for this week's lesson discussion:
Are there conditions to having one's prayers answered?
Why do you answer yes or no?
Isn't it true that if I believe hard enough for something God will answer that specific prayer of faith?
Why do you answer yes or no?
Psalms 37:4 says, "Delight thyself also in the Lord: and he shall give thee the desires of thine heart."
Question one: What does "delight thyself also in the Lord" mean?
Question two: Is this a promise that anything I desire God will give it to me?
Why do you answer yes or no?
We close this week with John 15:5-8 which speaks of the foundation and life transformative power of a connection with Christ that includes prayer: I am the Vine, you are the branches. When you're joined with me and I with you, the relation intimate and organic, the harvest is sure to be abundant. Separated, you can't produce a thing. Anyone who separates from me is deadwood, gathered up and thrown on the bonfire. But if you make yourselves at home with me and my words are at home in you, you can be sure that whatever you ask will be listened to and acted upon. This is how my Father shows who he is—when you produce grapes, when you mature as my disciples.  The Message
Until next week, let's all continue to Hit the Mark in Sabbath School!
Amen!

(

9

)

Print/PDF/Email