Tuesday: Discovering Our Gifts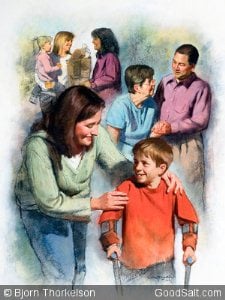 Discovering our gifts is not difficult. You will be able to recognize quickly the gifted ministry areas of your pastor and other key leaders in your church. All you have to do is observe what they are doing and notice how people respond to their ministry. However, it is another matter when it comes to considering what one's own spiritual gifts might be.1
The process of discovering an individual's spiritual gifts has sometimes been presented as rather simplistic: fill out an inventory, apply a formula, and your gift is discovered. Many church members have attempted to discover their spiritual gifts through this avenue but have been disappointed when their local church does not place them in positions where they can exercise their gifts within the body.
An appropriate spiritual gifts seminar is perhaps the easiest way to begin to discover your spiritual gifts. However, it is wise to consider the seminar as only the beginning of the search, as, indeed, most prepared seminars point out.
Read 1 Corinthians 12:28–31. What is Paul telling us in these verses about spiritual gifts?
These verses are not directing us all to desire one or two gifts that are commonly thought to be the best. In this passage Paul shows that spiritual gifts are distributed according to the needs of particular situations facing any church in any place at any time. Therefore the best gifts would be those that would empower members of the local church.
When seriously considering your possible gifts, don't underestimate what other church members say. When members sit on the nominating committee to choose the various leaders and support teams for the coming church year, they look for people who have already exhibited an interest and ability in certain ministries. Even though the committee may not understand or intentionally consider spiritual gifts, they are in fact looking for people gifted in specific areas of ministry.
When someone shares his or her belief that you would be really effective in a certain ministry position, it may well be confirming your gifts. It would be wise to listen and pray about it.
The results of a spiritual gifts seminar—coupled with the affirmation of fellow believers and the results of a trial period in a particular ministry field—would be a clear indication of what the Lord has called and gifted you for.
What do you think your own gifts are, and why?
Amen!

(

0

)

Print/PDF/Email