Sabbath: Evangelism and Witnessing as a Lifestyle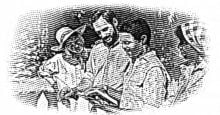 Read for This Week's Study:
2 Cor. 3:2, 3; Matt. 9:36–38; 1 Cor. 9:20–22; Mark 5:1–19; John 17:11–19.
Memory Text:
"At Joppa there was a certain disciple named Tabitha, which is translated Dorcas. This woman was full of good works and charitable deeds which she did"(Acts 9:36, NKJV).
Key Thought:
Whether we acknowledge it or not, all believers preach a message by the example of their lives.
It has often been said that Christianity is not just an adherence to a set of beliefs; it is also a way of life, a lifestyle. After all, what we believe will, ultimately, impact the choices we make and the kind of lives we live.
It is also true that those who claim to be Christians are keenly observed by others who are looking to see if their lives match their professed beliefs. Even if we don't intend it, those who watch us do learn from us. So, the important question is not, "Are we influencing other people and passing things on to them?" but rather, "How are we influencing other people, and what are we passing on to them?"
While we should always remember the importance of our unintentional influence on those around us, we must also intentionally plan to help people make a connection between faith and lifestyle. This week we will study how the Christian's lifestyle can demonstrate the relevance of faith in everyday existence.
Study this week's lesson to prepare for Sabbath, April 28.

(

0

)