Further Study: Last Things: Jesus and the Saved
"The intercession of Christ in man's behalf in the sanctuary above is as essential to the plan of salvation as was His death upon the cross.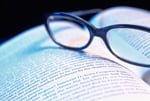 By His death He began that work which after His resurrection He ascended to complete in heaven. We must by faith enter within the veil, 'whither the forerunner is for us entered.' Hebrews 6:20. There the light from the cross of Calvary is reflected. There we may gain a clearer insight into the mysteries of redemption. The salvation of man is accomplished at an infinite expense to heaven." – Ellen G. White, The Great Controversy, p. 489.
"To the believer, Christ is the resurrection and the life. In our Saviour the life that was lost through sin is restored; for He has life in Himself to quicken whom He will. He is invested with the right to give immortality. The life that He laid down in humanity, He takes up again, and gives to humanity." – Ellen G. White, The Desire of Ages, pp. 786, 787.
Discussion Questions
John Calvin called Christ's work of intercession the "continual application of His death for our salvation," and it is said that "the existence of a heavenly sanctuary was standard theology among Puritan divines." It's not hard to see why Christ's work of intercession should be seen as such an important teaching. After all, look at how much of the Old Testament centered around the sanctuary and the temple. Look at how much the New Testament does, as well! What should this tell us about the importance of this doctrine?
Dwell more on Hebrews 9:23, a text that for centuries has baffled biblical scholars, who can't understand how something in heaven itself could actually need cleansing. While, as Seventh-day Adventists, we still have a lot to learn about what this text means, how does our understanding, for instance, of Daniel 8:14 help to clarify this important concept?
The resurrection of Christ is utterly essential to the Christian faith. Without it we have nothing. Read 1 Corinthians 15:1-6. Look at how Paul is seeking to persuade his readers of the evidence for Christ's resurrection. Notice especially verse 6. What is he saying here? Why is he emphasizing the fact that many of the people to whom Christ appeared are still alive? It's almost as if he's saying, "Don't take my word for it. Ask some of these hundreds who saw Him themselves." These are not the words you would expect from someone who wasn't sure of that which he was teaching. What other evidence from the Bible can help to reaffirm our certainty of Christ's resurrection?
Amen!

(

0

)

Print/PDF/Email