Introduction: Stewardship – Motives of the Heart
The Life of a Christian Steward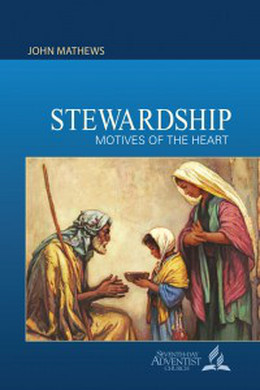 As Christians, we need to recognize our sinful condition before we see a need for change. That change can come only and thoroughly through Christ working in us. And one expression of His work in us is in the area of stewardship. Though stewardship encompasses many different aspects of the Christian's life, we will define it now, broadly, as managing tangible and intangible possessions for the glory of God.
As taught in the Bible, stewardship becomes, among other things, a powerful tool against the dangers of materialism (the love of owning things), or worldliness in general – one of the great spiritual snares the enemy of souls sets before us. Many people fail to realize that wealth and possessions are cheap, artificial seasonings that eventually lose their flavor. Unfortunately, many souls will be lost because of their failure to break free from their love of the world. The ways of the world – "the lust of the flesh, and the lust of the eyes, and the pride of life" (1 John 2:16) – can all be tempered, even avoided, through the principles of stewardship lived out in our lives.
That is why this quarter we will look at stewardship and what it can teach us about how to live as God would have us live, which includes freedom from the love of the world, in all its manifestations. Stewardship is the daily practical expression of what it means to follow Jesus; it is an expression of our love for God, a means of living out the truth that we have been given in Christ. We are stewards because God first loved us.
Our living of the steward's life, then, involves our attitude, conversion, commitment, self-discipline, and much more. We are to be God's faithful and trustworthy servants, living selfless lives by connecting to Jesus in everything we do and say. We discover in the school of Christ that the outcome of stewardship is the contentment of righteous living. We are to learn to manage God's possessions for His glory, funding His mission to finish His work.
God's stewards now "see in a mirror, dimly" (1 Cor. 13:12, NKJV), but Jesus sees clearly. He entrusts us to do His work. Even through the haze of the lure of the world, we are still responsible for the proper management of our talents, finances, health, and environment. These lessons are geared to teach us what our responsibilities as stewards are and how we can, through God's grace, fulfill those responsibilities, not as a means of trying to earn salvation but as the fruit of already having it.
Our lives as Christian stewards reflect God's character to the world. There is beauty, happiness, and godliness in the lives of those who dare to make a stand for biblical principles, especially against the trend and current of our culture. Everyone is tempted to live godless lives; the temptations are all around us, in open and in subtle ways. As Christians, especially as Christian stewards, we have not only been shown how to escape these temptations but promised the power to do so.
In the ultimate end, we are going to hear one of two sentiments spoken to us: "I never knew you; depart from Me, you who practice lawlessness!" (Matt. 7:23, NKJV), or "Well done, good and faithful servant! You have been faithful with a few things; I will put you in charge of many things. Come and share your master's happiness!" (Matt. 25:23, NIV).It is our hope and prayer that what is taught about stewardship in this quarter's lesson will help keep us on the path that will indeed make the words, "Come and share your master's happiness" the words that we do hear.
John H. H. Mathews, D.Min., from Andrews University, is an ordained minister who has served in Florida, Alabama, Iowa, Missouri, Tennessee, and Nebraska. Today he is the North American Division Stewardship Ministries director.

(

30

)