Is the Story of the Good Samaritan Still Practical Today?
Greater love has no one than this, than to lay down one's life for his friends. John 15:13 NKJV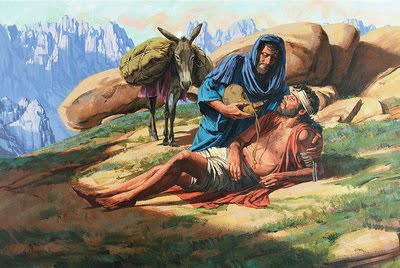 Years ago I was sitting in a Sabbath School class where we were talking about the Good Samaritan. Someone commented that we need to be careful stopping to help strangers today, because now it could be dangerous. I thought, wait a minute? Was it not dangerous back then too? After all the man the Samaritan was helping had just been robbed. beaten and left for dead. That sounds pretty dangerous to me. What if it was set up? What if the robbers were waiting to attack the Good Samaritan when he stopped to help? Was it worth the risk? The Good Samaritan thought so. He took that risk. Is it practical for us to take that risk today as well? In the story of the Good Samaritan, is Jesus teaching us only to stop and help people if we feel it is safe to do so?
Besides, what if the person we are helping doesn't even like us? I've heard people say, "Don't cross the ocean for someone who would not even cross the street for you." But did the Good Samaritan have that attitude? More importantly, did Jesus have that attitude when He left heaven to come die for ungrateful sinners?
The story of the Good Samaritan is about a man who risked his life to save someone who never would have helped him had the situation been reversed.
A certain Samaritan, in his journey, came where the sufferer was, and when he saw him, he had compassion on him. He did not question whether the stranger was a Jew or a Gentile. If a Jew, the Samaritan well knew that, were their condition reversed, the man would spit in his face, and pass him by with contempt. But he did not hesitate on account of this. He did not consider that he himself might be in danger of violence by tarrying in the place. It was enough that there was before him a human being in need and suffering. He took off his own garment with which to cover him. The oil and wine provided for his own journey he used to heal and refresh the wounded man. He lifted him on his own beast, and moved slowly along with even pace, so that the stranger might not be jarred, and made to suffer increased pain. He brought him to an inn, and cared for him through the night, watching him tenderly. In the morning, as the sick man had improved, the Samaritan ventured to go on his way. But before doing this, he placed him in the care of the innkeeper, paid the charges, and left a deposit for his benefit; and not satisfied even with this, he made provision for any further need, saying to the host, "Take care of him; and whatsoever thou spendest more, when I come again, I will repay thee."

In the story of the good Samaritan, Jesus gave a picture of Himself and His mission. Man had been deceived, bruised, robbed, and ruined by Satan, and left to perish; but the Saviour had compassion on our helpless condition. He left His glory, to come to our rescue. He found us ready to die, and He undertook our case. He healed our wounds. He covered us with His robe of righteousness. He opened to us a refuge of safety, and made complete provision for us at His own charges. He died to redeem us. Pointing to His own example, He says to His followers, "These things I command you, that ye love one another." "As I have loved you, that ye also love one another." John 15:17; 13:34.

-Ellen White, Desire of Ages, Pages 503-504.
So, is the story of the Good Samaritan still practical today? Is it still practical to cross the ocean to help someone who would not even cross the street to help you? Is it practical today to help someone even if it puts us in danger? What parts of the story of the Good Samaritan help us answer these questions?

(

22

)