Read for This Week's Study:
1 John 4:18-19; Rom. 3:19-20; John 15:13; Rom. 5:6–8; John 6:28-29.
Memory Text:
" 'If you love Me, keep My commandments' " (John 14:15, NKJV).
Key Thought:
We should work to win souls to Christ; the question we need to ask ourselves is, What motivates us to do just that?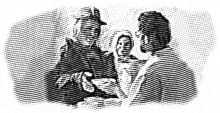 Although our memory text is most often considered to refer to the Ten Commandments, there are other commandments, as well, not the least being " 'Go therefore and make disciples of all the nations' " (Matt. 28:19-20, NKJV).
Our motivation for witnessing and evangelism should be primarily God's grace to us and not a sense of guilt, mere obligation, or debt. One doesn't need to be a behavioral psychologist to know that pretty much everything we do as humans we do in response to something. This will be true also of our involvement in witnessing and evangelism. We can discover our motivation simply by asking why we do what we do. Why do we become involved in the church's witnessing and evangelistic strategies? Or indeed, why don't we?
This week we will explore the right motivation for getting involved in the Lord's work, and also expose the dangers of working with the wrong motivations, such as obligation, guilt, or shame. We will explore why evangelism and witnessing should be our love response to God's gift of salvation to us.
Study this week's lesson to prepare for Sabbath, June 9.
Amen!

(

0

)

Print/PDF/Email