Monday: Our Crucified Substitute
"Now from the sixth hour until the ninth hour there was darkness over all the land. And about the ninth hour Jesus cried out with a loud voice, saying, 'Eli, Eli, lama sabachthani?' that is, 'My God, My God, why have You forsaken Me?'" (Matt. 27:45-46, NKJV). What is the meaning of this cry? How do we understand its implications in terms of the plan of salvation?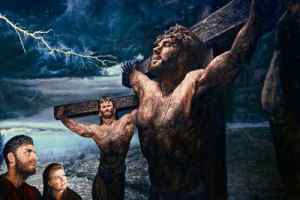 Matthew records what has been called by theologians "the cry of dereliction." Dereliction brings in the idea of abandonment, of something to be left alone and in need. In this case we can see Jesus' sense of abandonment by the Father. The darkness that surrounded the land at that time symbolized divine judgment (Isa. 13:9-16, Amos 5:18-20, Jer. 13:16); Jesus was experiencing in Himself the horrific consequences of sin, of the complete separation from the Father. In our behalf, He was bearing, in Himself the divine judgment against sin that should have been ours. "So Christ was offered once to bear the sins of many. To those who eagerly wait for Him He will appear a second time, apart from sin, for salvation" (Heb. 9:28, NKJV, see also 2 Cor. 5:21). On the cross Jesus appropriates the language of Psalm 22:1 because in a unique way He was experiencing what humans experience, the separation from God due to sin. "But your iniquities have separated you from your God; and your sins have hidden His face from you, so that He will not hear" (Isa. 59:2, NKJV).
This wasn't pretend. Jesus truly bore the wrath of God against sin; the penalty for our transgressions fell upon Him, and thus filled His soul with consternation and dread as He bore the weight of guilt, our guilt, upon Himself. How bad sin must be in the sight of God that it took one member of the Godhead to suffer the guilt and punishment of sin in order for us to be forgiven it!
And yet, even amid this horror, Jesus could cry out, "My God, My God!" Despite all that was happening to Him, His faith remained intact. He would stay faithful to the end, regardless of the suffering, regardless of the sense of being forsaken by the Father.
What is it like to feel separation from God due to sin? Why is claiming the righteousness of Christ our only way back, a claim accompanied by repentance, confession, and a resolve to forsake that sin?
Amen!

(

31

)

Print/PDF/Email