Monday: Prayer for the Sick
Read James 5:14-15. What are the essential elements James prescribes for anointing the sick, and what important spiritual components are found in these texts?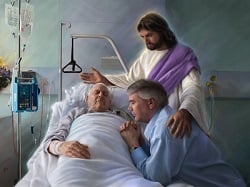 The fact that the sick person calls for the elders of the church to come and anoint him or her with oil in the name of the Lord and pray expresses the spiritual desire of the individual and the collective conviction that divine intervention is needed for healing (Mark 6:13). The reference to the forgiveness of sins shows that God will not, by means of a ritual, restore a person physically who does not also desire spiritual healing. "To those who desire prayer for their restoration to health, it should be made plain that the violation of God's law, either natural or spiritual, is sin, and that in order for them to receive His blessing, sin must be confessed and forsaken."-Ellen G. White, The Ministry of Healing, p. 228. The request for divine intervention and the summoning of the elders of the church suggest that the illness is incapacitating and, perhaps, also too urgent to be done in connection with a regular church gathering. Two different Greek words are used for the sick here: the first (astheneo in James 5:14) is also used of Dorcas who became sick and died (Acts 9:37, NKJV); the second (kamno in James 5:15) refers generally to the patient, but it is also used of those who are dying and, in this context, seems to mean someone physically worn out or wasting away. The desire for healing requires full surrender to God's will, whatever it is (1 John 5:14). However, the references to sav[ing] and rais[ing] the sick (compare shall save . . . from death in James 5:20) point unmistakably to the resurrection as representing the only complete healing, the timewhen this corruptible shall have put on incorruption, and this mortal shall have put on immortality (1 Cor. 15:54). Many of us have known about anointing services, or have even been involved in them, in which the sick are not healed but in fact die. Why, then, is the hope of the resurrection, implied in these texts, our only surety?
Amen!

(

28

)

Print/PDF/Email