Monday: The Prophets as Historians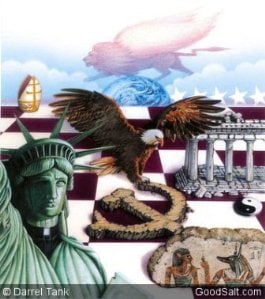 All through the Bible, the prophets use the phrase, "The word of the Lord" (or an equivalent "Thus says the Lord, says the Lord, etc.). In short, what they are saying is, I am not speaking these truths to you; it's God speaking them through me. So, you'd better listen.1
How is this idea revealed in the following verses? Jer. 1:14–19.
---
---
The reader is allowed to see the painful historical process by which the capital city Jerusalem is to be handed over to Babylon, in fulfillment of God's predictions of Israel's fate.
Human kings, of course, rarely believe that history works this way. They imagine that their governing decisions shape public life. They think that they, ultimately, are in control. But Jeremiah (and other prophets) assert otherwise. Israel's rulers discover that the historical process is leading the nation toward devastation and then exile. The book of Jeremiah is a stunning reminder of the power of God's Word to be fulfilled in historical events.
How do Isaiah and Nahum testify to this similar point? Isa. 14:24–27, Nah. 1:5–10.  
---
---
This infinite power of God seen in human history is also exhibited in nature. Psalm 104, for example, describes the processes of nature not as a self-contained, autonomously functioning mechanism but rather as processes in which God is acting at every moment. The Bible doesn't portray God as having created the world and then left it on its own, leaving it in complete subjection to natural laws. Natural laws are, indeed, part of how God sustains the world, but all these laws are there only because He created and sustains them.
Many scientists declare that the world began by accident and that it will end that way, as well. Hence, there's not much meaning to all that comes in between (how could there be?). Why, deep down, do you know that this view can't be right?
Amen!

(

0

)

Print/PDF/Email