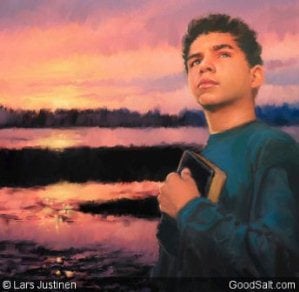 How would you have recognized the followers of Jesus back in the first century? You could recognize the priests and the Pharisees by the way they dressed. Likewise, you would recognize a fisherman, a peasant, or a Roman soldier by their clothes. But, again, how would you recognize a Christian?1
Read John 13:35. According to Jesus, what is one special way His followers are identified? What does that mean in practical terms?  
Jesus said that if we love one another, others will know that we are His disciples. How will they know? Because love in action will convince them. The love we have for Jesus and for fellow believers will determine how we respond to God's will and, in turn, how we treat one another. Furthermore, the love and concern that we have for those outside of God's fold will determine how we treat them too. This is the sermon that they will see and observe, and it speaks louder than anything you could ever say. Many parents have noticed that very early in life their children develop an internal "hypocrisy detector" that becomes enhanced and fine-tuned as they grow older. We must be aware, therefore, that many of the people we associate with, and witness to, also have a highly developed ability to recognize the difference between a genuine spiritual experience and a mere profession of spirituality.
Read 2 Corinthians 3:2, 3. What is Paul saying about the way in which God wants to use His people to influence the lives of others?  
We must not underestimate both our intentional and unintentional influences on those around us. The Christian's life is to be like a letter sent from Jesus Christ to the world. From a heart that is renewed by divine grace, this letter will demonstrate the power of the gospel to transform lives and thereby will witness for the Lord.
How have you been affected by those whose actions matched their profession? How have you been affected by those whose actions didn't match their profession? How can you always remember that your actions will influence others, one way or another?
Amen!

(

0

)

Print/PDF/Email