Sunday: Revolt in the Heavenly Sanctuary
Read Ezekiel 28:12–17 and Isaiah 14:12–15. What do these verses teach about Lucifer's fall?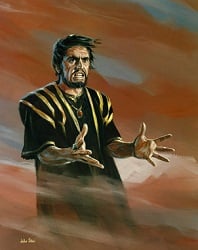 At first glance, Ezekiel 28:12 seems to be talking about only an earthly monarch. Several aspects, however, suggest that this is really referring to Satan.
For starters, this being is referred to as the anointed cherub "who covers" (Ezek. 28:14, NKJV), which recalls the Most Holy Place of the earthly sanctuary, where two cherubim covered the ark and the presence of the Lord (Exod. 37:7–9). This celestial being also walked in the midst of the fiery stones; that is, on the "holy mountain of God" (Ezek. 28:14) and in the center of "Eden, the garden of God" (Ezek. 28:13, NKJV)—both being expressions of sanctuary imagery. The covering of precious stones described in verse 13 contains nine stones that are also found in the high priestly breast garment (Exod. 39:10–13); thus even here we have more references to the sanctuary.
After having described the surpassing splendor of the cherub, the text moves to his moral fall. His glory went to his head. His beauty made his heart haughty, his splendor corrupted his wisdom, and his "trading"—which probably refers to his slandering of the character of God and stirring up rebellion—made him violent.
Also, arrogant earthly powers seek to move from earth toward heaven. In Isaiah 14:12–15, the "son of the morning" (Latin lucifere, from which comes the name Lucifer) goes in a different direction: he falls from heaven to earth, indicating his supernatural rather than earthly, origin. Other phrases like "throne above the stars of God," "mount of the congregation" in the far north, and "Most High" reinforce the impression that this is a celestial being. While verses 12 and 13 are in past tense, verse 15 suddenly changes to the future. This change in time signals that there was first a fall from heaven to earth (Isa. 14:12) and that there will be a second fall, from earth to Sheol (the grave), sometime in the future (Isa. 14:15). This does not refer to any Babylonian king; it is, instead, a clear reference to Lucifer.
A perfect being created by a perfect God falls into sin? What does this tell us about the reality of moral freedom in God's universe? And what does such freedom reveal to us about God's character?
Amen!

(

7

)