We have no idea what war in heaven means; that is, we don't know what kind of physical battles were fought other than the casting out of Satan and his angels. The fact is, the Bible does not say anything about the physical aftermath of this heavenly conflict. It deals, instead, with the spiritual results here on earth.
Read Revelation 12:7-16. What does it tell us about the great controversy as it impacted heaven and then earth?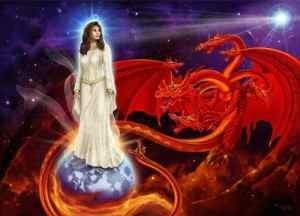 Note the positive way that John talks about the continuing war between the "accuser of our brethren" and the overcomers. He links it to salvation and the coming of the kingdom of God (Rev. 12:10-11) . This positive theme is underscored throughout the chapter and is an important aspect of the great controversy.
It is crucial that we note the overall context of Rev. 12. Three great threats are described there, but each is followed by an incredible deliverance. In a dramatic vision John is shown the struggle between Christ and Satan and how totally mismatched it all appears to be.
For instance, a great red dragon (Satan, Rev. 12:9 prepares to eat a baby (Jesus) about to be born. What baby could survive that? But He does and is caught up to the throne of God.
The dragon then attempts to persecute the mother (a symbol of the people of God; see Rev. 12:13. How much can a mother who has just given birth defend herself against a dragon? But she also escapes miraculously (Rev. 12:14) .
In a third attempt to destroy God's chosen, the dragon causes a flood to gush out after the woman (Rev. 12:15) . A woman against a flood? But, again, God steps in and delivers her (Rev. 12:16) .
The dragon now turns his attention to the remnant of the woman's seed. He is furious and wars against them. History clearly shows how God's people have been hunted, oppressed, and persecuted over the years. Too often we see the impossibility of the struggle and wonder how the faithful will survive, forgetting that the story does not end there. It continues in Revelation 14 where we see the faithful standing before God's throne; thus, they, too, have been delivered.
At times when you feel overwhelmed by forces greater than yourself, how can you learn to take courage in the Lord, who is greater than all things?

(

49

)