Out of the Whirlwind – Hit the Mark
"Then the Lord answered Job out of the whirlwind, and said," Job 38:1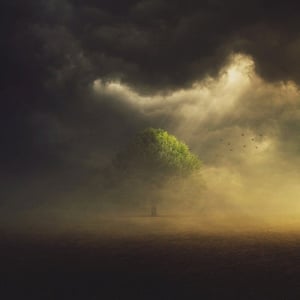 This one verse from our lesson Out of the Whirlwind is so full of instruction that time will not allow for anything beyond that.
The story of Job and his unexplained suffering is one we can all relate to on some level. While we may not have lost as much as he did, we each have had our Job experiences – the times when we are grappling with a major crisis and no one has the answer to our dilemma. The times that we don't understand the why and in our anguish cry out to God but are only met by silence. That is a Job experience.
Throughout this quarter we have looked into the conversations between Job and his friends. On all sides their understanding of God was flawed. Job struggled with understanding how he could be the subject of what he perceived to be God's wrath. His conscience was clear and he could find no explanation to why this had befallen him. He needed answers.
His sympathetic friends believed that Job, the most upright person they knew, had done something to deserve this drastic downturn in life. It was inconceivable to them that Job could be completely innocent and yet be in the condition he was. Even with all of their deep explanations of God, their answers were less than helpful.
As with Job, this period of not knowing why and feeling as if our prayers are unheard is a great test of our faith. Does the perceived silence cause shipwreck of our faith? Just what do we do when the answer we pray for is not readily realized?
We'll let Joseph, who went through multiple traumatic experiences through no fault of his own, gives us some answers.
As a young lad, Joseph faced intense sibling hatred. As Genesis 37 records, his brothers' jealousy of him almost led to his murder but for Reuben's intervention. He was instead sold into slavery and transported far from his home to a foreign land.
If we would seriously contemplate these events we could gain a sense of the magnitude of the trauma Joseph experienced. This was not an inconvenience or a setback in life. What happened to Joseph was enough to make him into a hardened criminal with no hope. But that was not Joseph's reaction.
To make matters worse, after dutifully working for his master, he was falsely accused of attempted rape and put into prison. It is not hard to imagine the sense of despair that he must have felt. Surely in the quiet of the night he must have asked God why him? He had done nothing wrong – nothing to deserve his lot in life. Where was the God of his father?
I believe that Joseph did not lose his faith in God. Although he could not explain the reasons why, I believe he knew that one day God would deliver him. Joseph had a relationship with his father's God and trusted Him with his future. The Bible indicates that Joseph's prayer while in prison was to simply be released. But God had bigger plans than that.
Joseph demonstrates what to do when the answer to our prayers is delayed. His formula for waiting is one we should all adopt.
"And the keeper of the prison committed to Joseph's hand all the prisoners who were in the prison; whatever they did there, it was his doing. The keeper of the prison did not look into anything that was under Joseph's authority, because the Lord was with him; and whatever he did, the Lord made it prosper." Genesis 39:22-23
Although it would be easy to sink into despair and negativity, Joseph kept his integrity and he worked with excellence. Joseph showed up. By doing the little things with care and making the most out of a difficult situation, he was being prepared for a role in life he could have never imagined.
Joseph also cared for others.
"So he asked Pharaoh's officers who were with him in the custody of his lord's house, saying, "Why do you look so sad today?" Genesis 40:7
That moment of caring, that moment of seeing the hurt in others and seeking to help them was major to his deliverance. By Joseph reaching out to help someone else he was actually helping himself.
While we are waiting for God to answer, let us keep working. Let us keep showing up and making the best of our situations. His promises that He hears and answers are for us. We must believe.
"And it shall come to pass, that before they call, I will answer; and while they are yet speaking, I will hear." Isaiah 65:24
Here are a few Hit the Mark questions for this week's lesson discussion:
What does "waiting on the Lord" mean to you?
Why would God want His children to wait on an answer to prayer?
How can one know, if at all, if God hears and answers their prayers?
Is it a lack of faith to keep praying about something after you first have asked? Why yes or no?
Is it true that one should seek to answer their own prayers? Explain your answer.
What should be the believer's mindset going through difficult times?
What does James 1:3-4 mean? Knowing this, that the trying of your faith worketh patience. But let patience have her perfect work, that ye may be perfect and entire, wanting nothing.
Is the following statement True, Mostly True, Somewhat True or Not True: The closer I am to God, the quicker my prayers will be answered. Explain your answer.
We close this week's lesson with another promise given to those who love Him. Let's learn to wait.
"Wait on the LORD: be of good courage, and he shall strengthen thine heart: wait, I say, on the LORD." Psalm 27:14″
Until next week, let's all continue to Hit the Mark in Sabbath School!
Amen!

(

15

)

Print/PDF/Email