Discipleship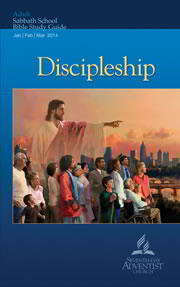 by Dan Solis
Current Daily Discussion Online
Daily Discussions on Discipleship
Teacher Helps on Discipleship
Additional Resources
2008 Q1: Discipleship lessons by Betram Melbourne of Jamaica. This series of lessons takes a different approach to the subject and rounds out the lessons from this quarter.
---
This  Quarter's Study Contents
Our main lesson version, using Reftagger from Biblia.com and works well on most devices.

Our "Mobile" version uses BibleGateway, with all content left-aligned, which works better for some smart phones.

The References (formerly called "Helps") include all related Scripture and most Ellen White quotations.
Lesson
1
Disciples and Scripture

• Dec 28 – Jan 3

2
Discipling Through Metaphor

• January 4 – 10

3
Discipleship and Prayer

• January 11 – 17

4
Discipling Children

• January 18 – 24

5
Discipling the Sick

• January 25 – 31

6
Discipling the Ordinary

• February 1 – 7

7
Jesus and the Social Outcasts

• February 8 – 14

8
With the Rich and Famous

• February 15 – 21

9
Discipling the Powerful

• February 22 – 28 

10
Discipling the Nations

• March 1 – 7

11
Discipling Spiritual Leaders

• March 8 – 14

12
The Harvest and Harvesters

• March 15 – 21

13
The Cost of Discipleship

• March 22 – 28
Did you know that you can receive each day's lesson via email? You may also discuss each day's lesson with other Sabbath School lesson students on our blog.
---
Principal Contributor:

DanSolis


Editor:

Clifford R. Goldstein
Associate Editor:
Soraya L. Homayouni


Publication Manager:


Lea Alexander Greve

Editorial Assistant:

Sharon Thomas-Crews


Pacific Press Coordinator:


Wendy Marcum


Art Director and Illustrator:


Lars Justinen


Concept Design:


Justinen Creative Group
---
The Adult Sabbath School Bible Study Guide is prepared by the Office of the Adult Bible Study Guide of the General Conference of Seventh-day Adventists. The preparation of the guides is under the general direction of the Sabbath School Publications Board, a subcommittee of the General Conference Administrative Committee (ADCOM), publisher of the Bible study guides. The published guide reflects the input of worldwide evaluation committees and the approval of the Sabbath School Publications Board and thus does not solely or
necessarily represent the intent of the author(s).
Editorial Office:
12501 Old Columbia Pike, Silver Spring, MD 20904.
---

(

23

)