10: Christ, the Law and the Covenants – Hit the Mark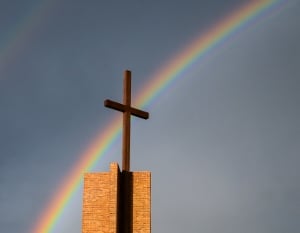 prom•ise: an express assurance on which expectation is based.
From the moment man found himself in trouble, God has come beside humanity with a promise of remediation. No crime has been too large, no offence to great. It has always been about the promise.
To Adam, who had unleashed the curse of death on mankind, God lovingly provided a remedy through a promise of a sin bearer. That covenant has yet to cease and still provides hope for you and me so far removed from the Garden of Eden.
To Abraham we find God pledging the greatest gift anyone could receive — Himself.
I'm establishing my covenant between me and you, a covenant that includes your descendants, a covenant that goes on and on and on, a covenant that commits me to be your God and the God of your descendants. Genesis 17:7 The Message Bible
He was God to Abraham as he set out on his journey to be the father of many nations. God proved over and over again that He alone has the ability to turn nothing into something. He could turn nobodies into historical somebodies.
He was God to Joseph as he walked the Egyptian streets as a slave. What was meant for Joseph's harm and to thwart the promise of his life, God used to do more than Joseph could ever ask or think. Tracing back the winding path Joseph explains to his brothers how God was God to him.
Then he said: "I am Joseph your brother, whom you sold into Egypt. But now, do not therefore be grieved or angry with yourselves because you sold me here; for God sent me before you to preserve life. For these two years the famine has been in the land, and there are still five years in which there will be neither plowing nor harvesting. And God sent me before you to preserve a posterity for you in the earth, and to save your lives by a great deliverance. So now it was not you who sent me here, but God; and He has made me a father to Pharaoh, and lord of all his house, and a ruler throughout all the land of Egypt. Genesis 45:4-8
He was God to David. Chosen as a young boy to be the future King of Israel, David understood who God was and embraced the promise of His presence. Long after David took down the giant Goliath and victory after victory had been his, David fell. His sin was unimaginable. Guilty of the crimes of adultery and murder we get a glimpse into how David viewed God.
Have mercy upon me, O God, according to Your lovingkindness; according to the multitude of Your tender mercies, blot out my transgressions. Wash me thoroughly from my iniquity, and cleanse me from my sin. Psalms 51:1-2
He was God to the three Hebrew young men about to be thrown into a fiery furnace. They were offered a solution to their dilemma by just simply bowing down to an idol. Just go along to get along. However, their allegiance to the God of Abraham trumped the natural desire for life and safety. To an angry king who taunted any hope they might have of being delivered we hear these young men give an evidence of God being God to them.
Shadrach, Meshach, and Abed-Nego answered and said to the king, "O Nebuchadnezzar, we have no need to answer you in this matter. If that is the case, our God whom we serve is able to deliver us from the burning fiery furnace, and He will deliver us from your hand, O king. But if not, let it be known to you, O king, that we do not serve your gods, nor will we worship the gold image which you have set up." Daniel 3:16-18
Embracing the promise of God being our God is not just when we desperately need a reversal in our situation. Yes God delivers. Yes God saves. But there are times in one's life where deliverance is not the outcome. Is there any value in the promise of God being God then?
We need look no further than the soon-to-be martyred Stephen. He boldly stands before his assailants and with a clarity that could not be refuted recounts the history of God and His chosen people. Without any fear he traces the history of Israel's rebellion against God. He reminds them that God is bigger than the buildings they idolized and that the earth is but a footstool.
When they heard these things they were cut to the heart, and they gnashed at him with their teeth. But he, being full of the Holy Spirit, gazed into heaven and saw the glory of God, and Jesus standing at the right hand of God, and said, "Look! I see the heavens opened and the Son of Man standing at the right hand of God!" Acts 7:54-56
Here too we see the promise of God being God to those who accept covenant with Him. As the brave deacon is about to lay down his life God gives him a comfort and assurance that those who know not God can never experience.
This week as we study Christ, the Law and the Covenants, let's give some thought to what the covenants convey. They are an assurance that God will be our God and in a world with so much uncertainty the Christian has an assurance that lightens the burdens of anxiety and care that afflict those who know not God.
Here are a few Hit the Mark questions for this week's lesson discussion:
What does "covenant" mean to you?
What does it mean for a person to be in a covenant relationship with God?
What does a person have to do to be in a covenant relationship with God?
Isn't it true that every time a person sins they are "out" of covenant with God? Why or why not?
Isn't it true that being in a covenant relationship with God spares one from most calamity and misfortunes that happen to those who have no relationship with God? Explain your answer?
We close this week with a small sample of David's Psalm about the relentless love of God towards the objects of His affections:
Whither shall I go from thy spirit? or whither shall I flee from thy presence? If I ascend up into heaven, thou art there: if I make my bed in hell, behold, thou art there. If I take the wings of the morning, and dwell in the uttermost parts of the sea; even there shall thy hand lead me, and thy right hand shall hold me. Psalms 139:7-10
Until next week, let's all continue to Hit the Mark in Sabbath School!
Amen!

(

9

)

Print/PDF/Email