Read Exodus 31:2–11.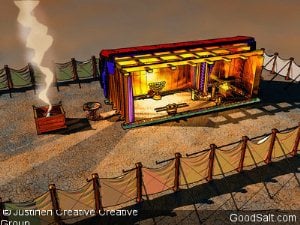 What do these verses teach us about the making of the objects in the earthly sanctuary? What link is there with Genesis 1:2? (See also Exod. 25:9.)
Of all the objects in the sanctuary, the ark of the testimony was the supreme symbol of God's presence and holiness. The name derives from the two stone tablets of the law, called the "testimony" (Exod. 32:15-16), that were placed inside the ark (Exod. 25:16, 21).
On top of the ark was placed the "mercy seat," with two cherubim overshadowing the cover with their wings (Exod. 25:17–21). It is appropriately called the "atonement cover" (NIV), for it conveys the idea that our compassionate and gracious God has reconciled the people with Himself and made every provision for them to maintain a covenant relationship with Him.
This is the place where, once a year, on the Day of Atonement (Yom Kippur in the Hebrew), atonement for the people and the sanctuary took place (Lev. 16:14–16). In Romans 3:25, Paul refers to Jesus as "atonement cover" (usually translated as "propitiation" or "sacrifice of atonement"), for Jesus Himself is the place of redemption, the One through whom God has made atonement for our sins.
In the Holy Place, the first compartment, the lampstand continually provided light (Lev. 24:1–4), and the altar of incense produced the protective smoke that concealed the presence of God from the priest (Lev. 16:12-13). On the table for the bread of the presence were placed twelve loaves of bread, representing the twelve tribes of Israel. Dishes, pans, jars, and bowls (Exod. 25:29-30) also were placed on the table. Although little information is given about the significance of these items, it seems that they represented the elements of a covenant meal (recalling Exod. 24:11) and served as a constant reminder of God's covenant with the people.
Read Romans 3:25–28. What great hope can we take from the promise of salvation "by faith apart from the deeds of the law" (NKJV)?
Amen!

(

18

)

Print/PDF/Email