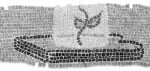 Key Thought: The law serves to reveal God's character and show our deficiencies, leading us to our acceptance of Christ's righteousness and our redemption by faith.
[Teaching Plan for Priority of the Promise November 2, 2011]
1. Have a volunteer read Galatians 3:15-18
A. Ask class members to share a short thought on what the main idea of this text is.
B. What is the difference between a contract and a will ( or testament)?
C. Personal Application: How […]