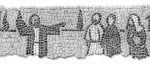 October 1, 2011
Key Thought: God changed Saul's opposition to the young church resulting in a strong ministry to the Gentiles..
1. Have a volunteer read Acts 6:9-15.
A. Ask class members to share a short thought on what the main idea of this text is.
B. What was Stephen being accused of? Were these accusations true, partially true, or completely false? Share.
C. Personal Application: How do you think you would handle being partially or falsely accused in […]